Television viewers love the working-class hero. Hand him a beer, and he becomes a God.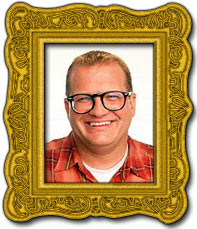 "43 year old, single white male, with slight weight problem seeks romantic relationship. I enjoy drinking beer, barbecues in the backyard and watching TV. On weekends you will enjoy my company at a local tavern where we can indulge in chili-cheeseburgers and wash them down with a few cold beers. Did I mention I like beer?"
Sound familiar? That's because it's you and me and Drew Carey and the other 60% of American men that his dynamic, heavyweight "every guy" persona, on screen and off, represents. We all want to have fun in life, and it's because of the unbearable yet humorous wrinkles that our hero has to endure weekly on The Drew Carey Show, that Drew's working class, blue-collar character always drinks his way into our hearts.

It sometimes seems to us though that the real life Drew may not be the "doughboy" that he plays on TV- although celebrity Drew insists that his favorite restaurant is still Denny's (probably something he got hooked on as a young waiter working for the chain in his hometown of Cleveland, Ohio) he also exercises and says he tries to eat right.
You can't fool us Drew. We know you're one of us. Although one of the "thinner" inductees to our hall of fame (how do you maintain that 40 inch waistline?) your character more than makes up for induction in other ways… funny ways… beer drinking ways…

And beer brewing ways. As the brains behind Buzz Beer, Drew's down-hometown garage beer brewing business is just one dream guys like us can see forfilled on our TV's from the comfort of our own couches. Having a gorgeous, grown-up tomboy friend-girl like Kate is another. And sometimes sitting on a couch drinking a beer watching a show about guys sitting on a couch drinking beers just completely blows our minds.

Drew's book, aptly titled Dirty Jokes and Beer, was released in 1997 and spent three months on the New York Times bestseller list setting the record straight once and for all that beer (and dirty jokes) have mass appeal.
The real Drew Carey has never been married and frequently tells interviewers that he enjoys his freewheeling bachelorhood. His long term goals? "I see [myself] fulfilling my five-year contract and disappearing. I want to grow a beard, have money and retire. Meanwhile I'm gonna have fun."
"But most of all, I wanna take this moment to thank the real, true TV viewers… People like me. People that are too lazy to read a book. Too tired to go out. Don't care what they're watching as long as their TVs on. The shut ins. The unemployed. People in prison. This is for you."–Drew Carey, The TV Guide Awards, 1999
Pardon us while we pay for beer...