Bobby "Bacala" Baccalieri is a shoe-in as our favorite New Jersey mobster.
"I think it's time for you to seriously consider salads." –Tony Soprano.

Steven Schirripa is a big guy. Known to most of us as Junior Soprano's right hand man Bacala (Bobby Baccalieri for the record) in HBO's The Soprano's, Steven is also known to a few important people in Las Vegas as the Entertainment Director at The Riviera Hotel & Casino.
At the Riviera, it's Steven that's giving orders- not Bacala taking guff from Tony Soprano- who has referred to him as "a calzone with legs" and Ralphie Cifaretto who implied that he would have been "way before" in a Weight Watchers before and after photo.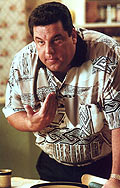 "I have feeling too you know."
And the predictable Bacala (which means "codfish" in Italian) knows how to put the food away. Coming back to Junior late after running an errand, Uncle Joon barks "I've been waitin'… how many White Castles did you have?" "I didn't have any" Bacala shrugs. "I can smell 'em" Junior quips.

"Fuck you Santa!"
The man behind that huge belly is nothing like the character you see on TV. Wayne Camardo of PNN says: "Steve Schirripa is probably one of the most direct people I know. You have got to respect him for that. You'd better, Steve is a big man and he's in very good condition. When Steve asks you a question, you'd better have the right answer. If you don't, well, suffice to say, I wouldn't want to be in your position."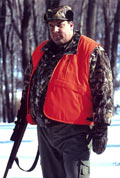 In a show filled with giant beer guts and $100 steak dinner stomachs, Steve's really sticks out- and it is this distinction that places him here in our Hall of Fame.
Steve can also be seen in 1995's Casino as "man in bar." You can't miss him.
On his book:

Steven Schirripa may be best known for playing an über-goomba on TV, but he has some first-hand experience to draw from as well. Schirripa grew up in the heavily Italian Bensonhurst section of Brooklyn, where his bookie father was arrested 32 times; he himself worked at Vegas casinos for years before stumbling into acting. Now Schirripa exposes the inner mysteries of the Italian-American hybrid in A Goomba's Guide to Life so that anyone can walk, talk, live and eat like a guy "from the neighborhood." Thirty pages are devoted to recipes.
Pardon us while we pay for beer...