Take one huge TV, add sports, beer, a couch and a bucket of wings. Mix well.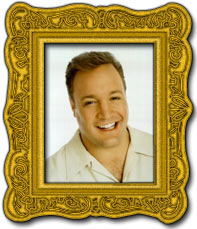 Comedian Kevin James has easily earned his place here in our Belly Hall of Fame. The New York based Belly Buddies can relate to Kevin and his Queens, New York centered character Doug Heffernan in The King of Queens (with the exception that none of us have a hottie Leah Remini-type wife… yet).
Stony Brook, Long Island born Kevin was a svelt 190 pounds when he wrestled for his high school team during his 82-83 senior year. The 5'10" powerhouse currently weights in at around 260 pounds and joked in an October 2000 interview that he'd like to get down to 135 after watching an episode of Gilligan's Island and realizing that he was "bigger than the Skipper" who, coincidentally is another member of the Brian's Belly Hall of Fame.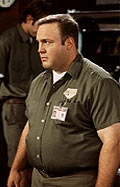 Our most memorable TV moments of Kevin include hosting the 1998 Macy's Thanksgiving Day Parade (who better to segue us into our turkey dinners) and his coinage of the nickname "Fatty McButterpants" in an episode of The King of Queens when he finds out — to his dismay — that his wife is buying his clothes at the big and tall shop. "Doug, you're not that big" says Carrie, trying to soften the blow. "Well I'm not exactly tall!" he screams back at her.

In a Yahoo! online chat, the sports fan was asked about his NY team preference. "Absolutely the NY Mets" answered Kevin- "I hate [the] Yanks when the Mets are out of it… which unfortunately comes early in the season."
And to sum our boy up: when asked "what's your favorite beer?", Kevin replied "Cold." You can have a drink with us at Cooper's anytime Douggie.
Pardon us while we pay for beer...