A man of tremendous appetites, given to excess in every aspect of his life. Excessively talented, excessively funny and excessively nice.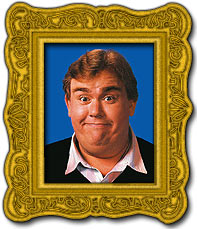 This rotund, talented, and immensely likable comic actor spent too much time in substandard movies- even after achieving stardom, but his personal appeal remained intact. From his early days in SCTV to his roles–big and small–in over 50 movies, the man who never quite became a grown-up always looked more like an appliance salesman than a celebrity, but that's precisely what made audiences love him. And for John, it seems that art often imitated his life- creating characters that had roots in his past.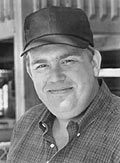 John Franklin Candy was born in Newmarket, Ontario in 1950 and raised in the East York section. Candy was always a portrait of an overgrown kid, very much like his portrayal of "the Beaver" in his SCTV sketches later in life. He was self-conscious of his size in high school, choosing to always try to be on the side of the "shirts" when playing basketball in gym. The young rotund roudigan had a knack for smoking cigarettes in school (and getting caught) and because they had a lower drinking age than Ontario, he used to drive down to Buffalo in New York on the weekends in a huge Chevy he had dubbed "the White Knight" that was similar to the one he drove in Uncle Buck.

At a time when Canada was filled with Vietnam draft dodgers, Candy wanted to join the U.S. Marines. A noble gesture, but it seems his patriotism for the USA may have been influenced more by his weight. He felt that this would be a good way to get in shape… sound familiar? It should. As Duey "Ox" Oxberger in Stripes he unabashedly admitted "You might have noticed that I've got a slight weight problem. I went to this doctor. He told me I swallow a lot of aggression… along with a lot of pizzas. Well, I didn't have the money [for a weight loss program]. Then I thought to myself, join the army… it's free. I'm going to walk out of here a lean mean fighting machine!"
Candy did go through with his intent to sign up and made it all the way to the recruiting station in New York, however he was rejected due to a high school football injury. But sometimes things happen for a reason, and Candy ended up in College taking journalism classes and considering acting. His friend Rosemary (who would later become his wife) set him up with a gig in a commercial as a football coach and he immediately got the job.

He established himself with the Second City comedy troupe and on the SCTV show in the late 1970's and early 1980's with characters such as Big Jim McBob (who would have guests on his show and then "blow 'em up real good") and his greatest creation Stan and Yosh Schmenge (with his uni-browed best friend Eugene Levy) as the Schmenge Brothers who made polka all the craze.
1979 marked the release of his first hit film appearance, a role in the Steven Speilberg farce 1941. The spoof of World War II films put Candy in the company of such acclaimed actors as Saturday Night Live stars John Belushi & Dan Akroyd who he teamed with again in The Blues Brothers in 1980 ("Orange whip?… orange whip?… three orange whips!").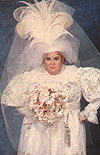 We'll be honest with you… once Candy started to get leading roles he was in a slew of really bad movies that we have all seen a dozen times while channel hopping around the dial- Armed and Dangerous, Summer Rental, The Great Outdoors and Who is Harry Crumb? to name a few. But for each bad movie he subjected us to watch, there were the gems like Uncle Buck and Planes, Trains and Automobiles (and lest we forget the aforementioned great small roles in 1941, The Blues Brothers, Stripes and National Lampoon's Vacation).
Candy played his own best friend–the half man, half dog "Mawg" named Barf–in the Mel Brooks jump-the-shark sci-fi send up Space Balls, but was less convincing as the amorous Eldona in Nothing But Trouble. His 1991 role in drag with Chevy Chase and Dan Akroyd earned him a Razzie Award nomination for Worst Supporting Actress. But Candy already had a shelf full of writing Emmy's for SCTV lining his shelves and was honored with a Humanitas Award for his work in teaching children values and ecology in his animated television series Camp Candy. Also to his credit, Candy was placed on

Playgirl Magazine's 1985 list of most desirable men- further proving that chicks dig thick guys.
Candy had great hometown pride and was always a big football fan, even after his injury in high school forced him off the field and into the crowd. While working his way through the SCTV years and then finding his way to Hollywood, Candy kept tabs on the fortunes of his favorite boyhood team the Toronto Argonauts. When he and Wayne Gretzky (among others) purchased the Canadian Football League team it was a dream come true. While others may have seen it as an investment, Candy took the team to heart.
At the height of his career, Candy was 6'3″ tall and weighed close to 300 pounds. Even though the sight of him warmed audiences and he was labeled "the most huggable in all of Hollywood," Candy talked frequently about his struggle with weight. Although it was a contributor to his death in 1994 at the age of 43, his family history was marred by heart disease and death (his father died of fatal heart attack at 35).
John Candy was man of tremendous appetites, given to excess in every aspect of his life. Excessively talented, excessively funny and excessively nice. In the 1994 season opener his Toronto Argos honored him by retiring his number, 91.
Orange Whip
"Who wants an orange whip? Orange whip?… orange whip?… three orange whips!" -John Candy as Burton Mercer in The Blues Brothers.
Ingredients:
* 4 oz Orange juice
* 1 oz Rum
* 1 oz Vodka
* 1 oz Cream
Pour ingredients over ice, cover and shake till frothy.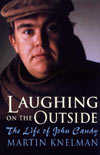 For more info on John Candy, read Laughing on the Outside: The Life of John Candy.

Pardon us while we pay for beer...