Norm Peterson is quite possibly the most famous beer drinker in the history of television.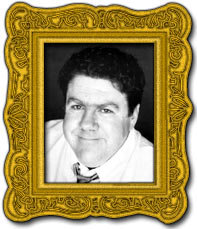 The man who sat at the corner of the bar where everyone knew his name is none other than Chicago born George Wendt. Surely the first time we all remember seeing Wendt was as the pool-ball eating sergeant in his memorable appearance on M*A*S*H. But for eleven years (1982-1993) George kept a stool at Cheers, one of the highest rated sitcoms in television history.
And every week we watched- and listened. When Norm Peterson entered Cheers and patrons greeted him with a chorus of "Norm!" we all waited to hear what brilliant joust he had in store for us.
Woody: Can I pour you a draft, Mr. Peterson?
Norm: A little early, isn't it Woody?
Woody: For a beer?
Norm: No, for stupid questions.

The witty entrance retorts have there own place in history and became known as "Normisms." We've supplied a list of some of the best ones on page two of this article.

The cry for "Norm!" would follow the character everywhere he went, whether it was at Vic's Bowl-A-Rama, at rival bar Gary's Olde Town Tavern, or at his favorite spot to eat, the Hungry Heifer- where he would always get the Feeding Frenzy for two made with 100% pure Bef.
Fans of Mr. Wendt have been know to greet him with the same rousing cheer when he enters the room. "It's a little hard to take," he said in an interview in 1995. But just like poor, geek-attacked William Shatner, George has learned to roll with the gesture. "What's the harm?" he now says.

But there are other reasons Mr. Wendt has been received with such warm response from his superfans wherever he goes.
In 1991, Robert Smigel's The Superfans debuted on Saturday Night Live starring host Joe Montegna as Bill Swerski, the #1 fan of Da Bears, and Smigel as fellow Mike Ditka worshiper Carl Wollarski. When the super popular sketch returned five months later, George Wendt took over hosting the show as Bob Swerski due to his "brudda Bill's frequent heart attacks."

We hear that a PBS special is currently in development that will have Wendt host a three-hour series on the world history of beer. This may mark the first occasion that PBS will actually be watched by people like us.
So here's to George and all of his beer drinking, bef eating and cholesterol-induced heart attack alter-egos. May they continue to teach us that beer is good and fat is funny.
Pardon us while we pay for beer...