As a modern day Everyman, Goodman has unlimited potential.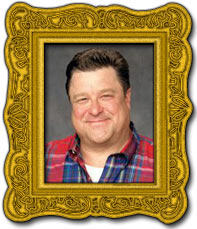 Perhaps best known for his Emmy award nominated TV role of Dan Connor opposite Rosanne, actor John Goodman often plays the parts of Everyman better than any man.
Born in St. Louis, Missouri in 1952, Goodman grew up playing football for his high school team. He graduated Southwest Missouri State University in 1975 with a degree in theater and shortly thereafter moved to New York to discover his future in acting.
He may be best known to TV audiences as Dan Connor, but to us it's his Coen Brother movie roles that are most memorable and befitting this Hall of Fame inductee. As the Dude's Vietnam vet sidekick and belligerent bowling pal Walter Sobchak in The Big Lebowski, Goodman reminded us what happens "when you fuck a stranger in the ass."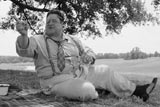 As Big Dan Teague in O Brother, Where Art Thou?, he conned his way into a picnic lunch. Before politely unhanding the heroes of their cash and frog, Big Dan pardoned his food fetish: "Thank you boys for throwin' in that fricassee. I'm a man of large appetite, and even with lunch under my belt, I was feelin' a mite peckish."

In Rasing Arizona he made us laugh as the beer guzzling escaped convict and unwelcome houseguest Gale Snopes ("Anyone found bipedal in five wears his ass for a hat!") and as jovial insurance salesman Charlie Meadows (a.k.a. Karl "Madman" Mundt) in Barton Fink, Goodman was the first movie madman to put a head in a box… way before they did it in Seven.

We'd also be remiss if we failed to mention his portrayals of two cultural icons. The first being baseball legend Babe Ruth in The Babe (coincidentally another inductee in our Hall of Fame). The second, his Yaba-Dabba-Doo time as Fred Flintstone, the original bowling, beer-drinking, brontosaurus burger-eating cartoon Everyman.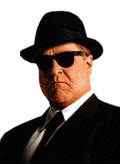 His heart was in the right place when he starred in Blues Brothers 2000 as Mighty Mack, replacement lead singer for the band. His performance during the half-time show of Super Bowl 31 with his fellow Blues Brothers and the final 15 minutes of BB 2000 almost let us forgive him and Dan Aykroyd for this silly sequel. The movie culminates at the New Orleans Battle of the Bands, where the brothers perform with B.B. King, Eric Clapton, Dr. John and a stage jammed with celebrities. Goodman also performs on occasion with Aykroyd at the House of Blues restaurant chain of which they are both part owners. The HOB in New Orleans is still home to the hottest pepper that EVER touched the tongues of the Buddies.
It turns out that New Orleans is not only one of the homes of the HOB, but also where Goodman calls home. He and his Louisiana-native wife Annabeth Hartzog have a house just outside Nawlin's and can be found every year at Mardi Gras. Living in the Big Easy is enough to define anyone's palate and John considers himself quite the chef. His recipe for Hearty Hash Browns (see below) was published in the Ladies Home Journal in 1995 (we're surprised you missed it).
You may have recognized John's voice in animated flicks such as Monsters, Inc., but it's his radio spots for Budweiser that help define the St. Louis man that is here in our Hall of Fame. In his leisure time he enjoys playing golf and fishing but honestly, what Everyman doesn't?
John Goodman's Hearty Hash Browns
Published in the Ladies Home Journal, 1995
Ingredients:
1 tablespoon of olive or vegetable oil
1 tablespoon of butter or margarine
1 cup of chopped onions
1/2 cup of chopped red pepper
1/2 cup of chopped green pepper
1 1/2 teaspoons of salt
1/2 teaspoon of freshly ground pepper
3 large baking potatoes, scrubbed and cut into 1-inch cubes
2 tablespoons of chopped fresh parsley
Heat oil and butter in a large nonstick skillet over medium heat. Add onions, red and green peppers and 1/2 teaspoon of salt and the pepper; cook, stirring frequently, until vegetables begin to soften and brown, about 3 minutes.
Add potatoes and 1 teaspoon of salt, stirring to coat well. Reduce heat to medium; cover and cook 5 minutes. Cook uncovered, stirring occasionally, until potatoes are golden brown and tender, 15 to 20 minutes more. Stir in parsley. Makes about 6 servings.
Photos from fansofjohngoodman.com.
Pardon us while we pay for beer...