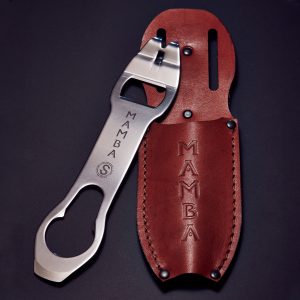 A few years back, I was enamored by the Snake Bite, an ultra-sleek bottle opener that doubles as my keyring. But I never used the "portable" opener in my home bar. Enter the Mamba.
The Mamba is a heavy-duty stainless steel bar tool. It's formed from a solid piece of ceramic tumbled, 304 stainless steel and 100% made & sourced in the United States. It is precision machined to expedite repetitive and manually challenging bartending tasks. This snake is also a big boy at 8″ long.
Now as a home bar owner, I can tell you that I will rarely–if ever–use the can tab lever and I'm not serving dozens of patrons so quickly that I need to vent my beer cans for faster pours (and I can tell you from personal experience that as we get older, we don't chug as often). But you can never go wrong with a stylish and functional bottle opener.
I bought one when they got their Mamba Kickstarter off the ground and I liked it so much that I went back for a 6-pack of Mamba's for Christmas gifts. The packaging is so nice that you won't need to wrap it.
The Mamba can also be personalized with a name or initials for the ultimate gift and is available with an optional sheath for your belt.
As I have found, you can never have too many bottle openers. The Mamba is available at SnakeBite.com for $29 and up.
Pardon us please, while we pay for beer...