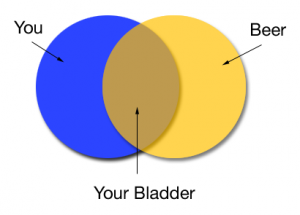 After nearly 20 years of producing America's two best-selling beers, Anheuser-Busch InBev will have to cede second place as Budweiser is pushed aside by Coors Light.
Bud Light has been the top-selling beer in the U.S. since 2001, while the "King of Beers" held it's post at number two. The now number three Budweiser is the only full-calorie beer in the top five. Miller Lite was in fourth place and Natural Light rounded out the top five selling beers.
Budweiser sales have been down–in decline since 1988 according to Beer Marketer's Insights. Most people in the industry seem to feel this is economic (people are not drinking as much) [link] or the trend toward drinkers drinking craft-y beers (when they do drink, they treat themselves) or low-calorie/low-carb/low-price beers [link]. Mix those things in with the fact that Anheuser-Busch decided to sell their soul to Belgium a few years ago and it's no wonder that the top five is shifting.
But Coors Light moving ahead of Budweiser? These are strange days. Websites that allow public beer ranking like Beer Advocate, Rate Beer and our own site, typically put Coors Light at the bottom of the swill. In fact, the top five selling beers are usually at the bottom of most ratings-based website. In our own circle, Coors Light has only one cheerleader, Buddy Ed McShea.
It may sound like I'm heading down the High-Bräu road again but readers of the site know that we are equal opportunity drinkers. If I want a good beer with dinner, I have a good craft beer, or two. If I want 12 beers in a row while I do yard work on a hot day, I may drink the stuff from the beer case at the end of the aisle.
I suspect I'm not be alone and perhaps that is the reason that Bud Light, Coors Light, Miller Lite, Natural Light and Budweiser (a very light American Lager itself) are the top five selling beers in the U.S… you can drink more of those–for less money–than you can a heartier, heavier, premium beer. Look at Natural Light… it's the only "sub-premium" beer to make the cut and many a college student and rednecks will tell you they drink Natty's because they are cheap.
So "real beer" drinkers should continue to take this news with a grain of hops… don't confuse "Taste's Great" with "Best Selling." As "beer" the top five may be bland, but as "beer" they clearly sell.
Via Chicago Tribune.
Pardon us while we pay for beer...