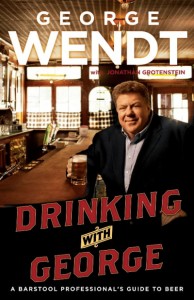 George Wendt is recognized world-wide for his role as Cheers barfly Norm Peterson.
I wrote about George some time back when we inducted him into the Brian's Belly Hall of Fame. A few months ago, I got an email from George. He said "I just wanted to say thanks for your great piece on the Norm character."
He friended me on Facebook to prove it was him, and promised to send an advance copy of his book "Drinking with George: A Barstool Professional's Guide to Beer
" for review, along with a signed copy of the Hall of Fame page (I have a signed page from Steven Schirripa, so I thought it would go nicely with it).
Well, I never did get that book… or that autograph. But I can't blame him… I'd be just as lazy if someone asked me to print something out and sign it and snail mail it.
While the book is on my wish list (and I can't wait to read it) all I can do to promote it is extrapolate from other reviews what I might think of it:
In his book "Drinking With George," Wendt finds plenty of common ground with his televised alter ego… not just in his keen love for beer, but in a talent for funny, affectionate storytelling. Deftly weaving personal anecdote with beer lore, Wendt reminisces on a career built on his work playing a lush, and a personal life also largely defined by beer.
Pardon us while we pay for beer...