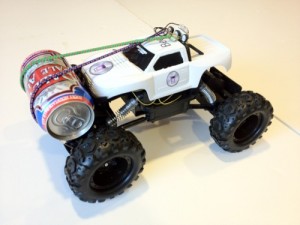 The first time I tried Siri on my iPhone I wondered who would be the first beer nerds that would be able to turn the voice-recognition assistant into a beer-fetching wench. The guys at RedPepper have created Beeri to serve this frosty purpose.
Beeri is an RC truck that has been modified with an Arduino Uno (basically a lil' computer) to check a Twitter account for "pour" tweets. Beeri sits pre-loaded with a beer on board and when it receives the control tweet, it drives itself Lizardo-style into a wall, where the beer can is punctured. Upon impact, half the beer splatters all over the place, while the other half dribbles neatly into a glass below.
It's a glorious mess to watch and the result is a beer that was served via Siri. I'm not a hater, but maybe instead of "pour" the control tweet should be something more like "Beeri Smash!"
It's nice to be first… there is room for improvement, but it works. There is a little "Beta" on their logo to show, I think, that they will keep working on it. I think anyone who thinks this is stupid will probably never be able to comprehend that one day Siri–who will be able to do anything–will become self-aware and rise up and kill us all. It may not be in the form of miniature beer-serving radio controlled cars, but the timeline is already in motion now.
Check out RedPepper's Tumblr for the photostream and the video below. Via TechCrunch.
Beeri from redpepper on Vimeo.
Pardon us while we pay for beer...