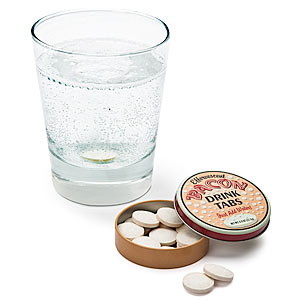 Uh-oh. Bacon flavored products may have just jumped the hog. ThinkGeek is selling tins of Fizzy Bacon Drink Tablets.
The tablets do exactly what you think a fizzy bacon drink tablet might do… they turn any liquid into a fizzy, bacon-y, effervescent drink. So add a tab to beer… bacon beer, add a tab to Mountain Dew… bacon dew, you get the idea.
Problem is, I've had Bakon Vodka… and as unique of a gift as it might make, a good beverage it is not. So add bacon tablets to your beverages at your own risk!
I think in this case plop-plop, fizz-fizz might be more like the sound of indigestion, not relief. If anyone has tried these, I would LOVE to know what you think.
Fizzy Bacon Drink Tablets at ThinkGeek.
Pardon us while we pay for beer...