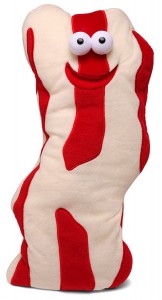 Our favorite meat strip just got plushed.
My First Bacon™ is a ThinkGeek exclusive plush toy that will delight your little ones. Even if they're not on solid foods yet, your progeny shouldn't be deprived of the joys of bacon. Soft and snuggly with big giant eyes, My First Bacon is both friendly and reliable, just like actual bacon.
Squeeze him and he says, "I'm Bacon!" No matter what the situation, he says, "I'm Bacon!" This reminds children that no matter what happens in life, they should be true to themselves and always be proud of who they are.
My First Bacon is only $20 at ThinkGeek. I've already purchased two for my two youngest lil-bacon-lover nephews even though it's for ages 3 and up. It's never too early for bacon™ (we JUST trademarked that).
Pardon us while we pay for beer...