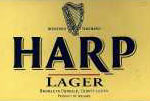 "I'll never touch Black Bush again!"-Belly Buddy Ed McShea
Quite a few years ago, on a bright sunny day in May, my friend and fellow Belly Buddy Ed McShea and I attended the Masters Degree commencement ceremony of our girlfriends at Queens College. After the ceremony, we headed to one of our favorite Mexican restaurants for a celebratory lunch and some of the finest frozen Margaritas on the planet. Little did we know it, but this combination of playing hooky from work, beautiful weather, spicy food and tequila would set in motion a series of events that would forever transform our lives–and in the process make me a huge fan of Harp lager.
After our meal, Ed announced that he had to go out and put a few more quarters in the parking meter. For some reason I decided to join him, and on our brief walk Ed speculated that when our fathers were in their heyday, they'd take advantage of such an opportunity to grab a quick pint away from the ladies. Therefore, it was only fitting that we pay homage to our dads and do just that. We ducked into a nearby Irish bar–dark, smokey, stale-beer stinky–and ordered up a couple of pints of Harp.
Two glorious glasses of trouble sat before us on the bar, somewhat pale golden and straw-like in color with an attractive bright white head and a very crisp, clean aroma. We slugged the first pints down too quickly to appreciate the sharp hoppy taste that usually stirs the tastebuds to life upon the first sips of a Harp. The quick chug did alleviate some of our guilt, however, and we suddenly became confident that we had time for one more pint before heading back to the girls. This time, the bartender suggested a splash of Rose's Lime Juice in our pints, and we accepted. Drinking more slowly this time, we were still sober enough to appreciate the way the lime juice complemented the light crisp flavor of the beer.
In fact, we were so inspired by this new twist to an old Irish favorite that we decided (against all better judgment and common sense) to go for "full Irish immersion." We ordered up a couple of shots of Bushmill's special reserve Irish whiskey, a.k.a. Black Bush. At this point, we were probably out for nearly a half hour (drunken standard time, of course), so we knocked back the shots and returned to the Mexican restaurant. The bright light of day nearly blinded us when we walked outside.
Miraculously, the girls were in good humor when we returned, having ordered some more rounds of frozen margaritas for themselves. They jokingly busted our balls and asked where we had been, speculating that we had stopped somewhere for a beer. We denied this with big drunken smiles, and insisted that we were merely walking outside, discussing important guy things. Since we were all such good spirits, we decided to continue our afternoon's revelry, and Ed and I suggested a stop at the bar we had just been in.
Of course, we didn't let on that we had just been there–the bartender took care of that for us. As he was pouring our fresh pints of Harp, he shouted across the bar while waving a bottle of Rose's Lime Juice, "Fellas, will ya be wantin' the lime juice again?" We were busted, plain and simple. But the girls took it all in fun, and we remained at the bar for quite some time–drinking, laughing and playing darts. Revenge would come later that evening when we had to go out to dinner with our respective girlfriends' families–just as our hangovers kicked in. In fact, I don't think Ed made it to dinner, and to this day he blames the Black Bush.
It was the kind of day you can't plan–it just evolved organically. And Harp Lager was the centerpiece of our whole misguided adventure. As I mentioned earlier, Harp does indeed taste rather sharp or bitter at first. But as it warms slightly and your palate adjusts, a really smooth, clean and refreshing taste surfaces. This clean fresh taste is a great complement to salty or spicy foods, so it goes well with lots of dishes described in the Belly. Plus, a splash of Rose's Lime Juice does add a refreshing twist. (Rose's is a sweetened juice, so the combination has an altogether different character from the Corona and lime you may be used to.)
Harp is the Lager cousin of Guinness Stout, and is brewed by the same St. James Gate Brewery. Oddly, I recently picked up a six-pack only to find that it had been brewed in Canada! It still tasted great, but I couldn't help feeling that I had somehow been cheated. However, I always find Harp to be at it's best on tap.
So try a pint or two, and see where it takes you. But remember, I can't in any way be held responsible for the outcome, particularly if you add Black Bush to the mixture!
There are 162 archived comments…
View All
Pardon us while we pay for beer...