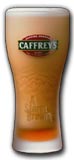 I enjoy having a selection of Irish beers to choose from when the St. Patrick's Day parade comes through my town. It is because of this that I stumbled across Caffrey's Irish Ale a few years back while trying to stock the shelves with some variety from Ireland.
Caffrey's comes from Belfast, North Ireland where it is brewed by the Thomas Caffrey Brewing Company. The 14.9 oz cans feature a nitrogen pocket that agitate the beer when you open it giving it that great 'from the tap' quality. Even if you know what the nitro 'widget' is, check out my Guinness review that gets up close and personal with this beer agitator.
Caffrey's is considered a bitter, but this is not overly bitter. It has a dreamy, creamy, toffeeesque taste that is light enough to drink all day. Despite the toffee quality, I wouldn't call this beer sweet. It has really beautiful amber/copper coloring and a thick, rich head. The head will stay with you all the way down to the bottom of the pint too, even if it's a soaped glass. This is a fairly light beer so I can easily drink these all day long, but on St. Paddy's I usually end up moving on to Guinness.
Now, here's the problem with Caffrey's… you can no longer get it in the U.S. As faithful American drinkers of this fine ale may already know, Coors Brewing Company acquired Caffrey's in December, 2001 when they purchased U.K. based Carling Brewers who had the distribution rights. Sometime in 2002, they stopped distributing Caffrey's in the U.S. due to poor sales. It is still available in the U.K.
If you've had Caffrey's and want to see it in the U.S. again, you can call the Coors Helpline at 1-800-642-6116 and let then know, or you can sit back and do nothing about it while poor uneducated souls end up buying and drinking Coors' other acquired (and promoted) Irish-type beer Killian's Red.
But those who have access to it will probably agree- it's a delicious, authentic Irish ale that is sure to please better bitter beer drinkers.
There are 378 archived comments…
View All
Pardon us while we pay for beer...