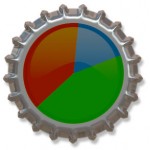 A recent Rasmussen Reports survey found that 69% of American beer drinkers choose domestic beers over imported ones, light beer over regular beer, and their top choice is Budweiser; which, umm, is not a light beer.
The telephone survey, which reports on a paltry 345 beer drinkers nationwide, says that when when asked what kind of beer they are most likely to drink, one-in-four (25%) say they are most likely to drink Budweiser with the  second choice being Miller at 19%, followed by Sam Adams at seven percent (7%). Coors, Heineken, Corona, Pabst and Guinness are next, in descending order. The remaining 25% choose some other brand.
But here's the rub… aside from what I would call a rather small amount of people polled (345 in a NATION!?) the actual question Rasmussen asked was practically a multiple choice: "Which brand of beer are you most likely to drink… Budweiser, Miller, Coors, Corona, Heineken, Pabst, Sam Adams or Guinness?"
The same flawed poll actually first asked three other questions, including "Are you more likely to drink a light beer or a regular beer?" to which 49% choose a light beer and 46% prefer a regular one. To quote Norm MacDonald: "Wait, what?"  If people prefer light beer, how did Budweiser claim the number one spot? I guess it's weird that no respondents seemed to actually answer with a light beer… possibly because they were missing from the prompted answers, a list of beer names AND brands for some reason. Maybe "Budweiser" meant any one of the 14,000 beers that Anheuser-Busch InBev produces?
To be fair, it seems like at least 25% of people said something else that wasn't on the list. But to be equally fair, it seems like 25% said the first thing on the list.
Of a random sampling of people in the room this morning while I was typing this, 50% said "what, do they do that because those companies paid them, or for web traffic?" and another 50% said "probably both."
I'm sure Rasmussen spent a lot of cash to get those answers… I'm going to hit a "poll" button on my computer here and see what kind of results I get… feel free to participate.

Loading ...
Pardon us while we pay for beer...