NPR has a piece about the jovial, mustachioed Italian chef whose image has graced the cans of ravioli and beefaroni that have been a staple in many American households for several generations.
Unlike the friendly but fictional food faces of Betty Crocker, Aunt Jemima and Uncle Ben, Chef Boyardee is real. Ettore "Hector" Boiardi (that's how the family really spells it) founded the company with his brothers in 1928, after the family immigrated to America from Italy.
Though we came to know him as Chef Boyardee — in the apron and trademark tall hat — Anna Boiardi knew him simply as Uncle Hector. Anna carried on her family's culinary tradition; her new book, Delicious Memories
, is part cookbook, part family history and part homage to her ancestors — immigrants who made their way in a new country.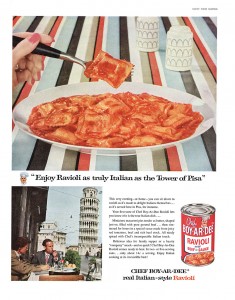 Even though packaged food made with preservatives  has fallen out of favor, the Boiardi's played a major role in introducing Italian food to the U.S. — and also changed the way American supermarket shelves were stocked.
Read the full story at NPR, the book is at Amazon
.
Pardon us please, while we pay for beer...