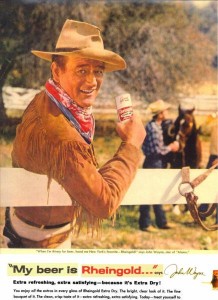 Connecticut marketer Drinks Americas has teamed up with the Lion Brewery in Wilkes-Barre, PA to revive Rheingold… bringing it to the shelves for the first time in 35 years. They hope to give people a taste of the past by distributing Rheingold in the Eastern U.S.
Rheingold had dominated the New York metro market for decades, its popularity buoyed by an infectious jingle that began, "My beer is Rheingold, the dry beer."
Rheingold was brewed from 1868 to 1976 and resonates with working-class beer drinkers in and around New York City. The company's headquarters was in the Bushwick section of Brooklyn and Rheingold was the official beer of the New York Mets. The regional brewer was known for its annual Miss Rheingold pageant, in which beer drinkers would vote for the Rheingold spokesmodel. Competition from national breweries killed Rheingold in 1976.
I've never had a Rheingold, but can't wait to give a can of history a try. My pappy used to drink Rheingold (as some classic old beer serving trays and a John Wayne poster from around 1960 will attest).
The most interesting thing about the Rheingold revival is the taste. According to the president of the marketing company behind the brew, there wasn't a serious attempt to recreate the taste of original Rheingold… "You wouldn't find the original to be as palatable," he said. "We made a beer that is more drinkable."
So is it true to it's roots, or is it just a name that's being revived? According to Brewing History, the original brewmaster has been tapped to oversee the brewing. I'll let anyone here over 50 speak out as to the original taste (feel free to post in the comments below).  As I have sampled many a recent Schaffer and Schlitz I know that the taste of some of "our father's beers" can be hard to swallow; they're an acquired taste… that I have acquired.
The brand was launched in New York, Connecticut and New Jersey in August and is now working its way through Pennsylvania and Ohio. Their website is being updated frequently with an interactive map tied to Google Maps to help you find the beer.
Read the full story at The Times Tribune and visit the new website at RheingoldBrewingCompany.com.
Pardon us while we pay for beer...