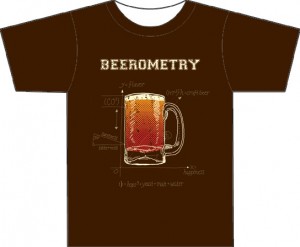 The Beerometry t-shirt is a 100% ringspun cotton shirt from CraftBeerClothing.com.
Proud site owners Jonathon and Gavin claim of this beerful textile, "you will probably want to wear the shirt every day, even to church."
The beer inspiration behind the shirt was the Dogfish Head Raison D'Etre: "This complex beer has so many layers, complexities, and subtleties that we felt the beer could almost be mapped in a geometrical pattern. Thus, the Beerometry t-shirt was born!"
I was hooked after taking Beerometry 101 in college, and still study beer until this day.  I have a Masters in Beerometry AND Beerology so it's nice to see the promotion of beer studies to a new generation.
CraftBeerClothing.com is a new website launched recently to promote three t-shirt designs targeting craft beer lovers.  Good luck guys.
Pardon us while we pay for beer...