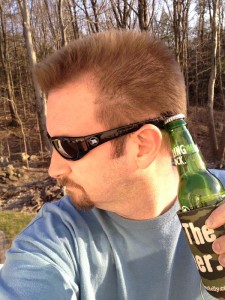 You've heard of beer goggles, right? How about goggles that open your beer? A company with a forward-drinking attitude has created Brewsees, a stylish pair of sunglasses with a built in bottle opener.
As editor of a beer publication, I see beer bottle openers all the time. I like beer bottle openers. They open my beer. But crappy beer bottle openers are another story. Plastic ones piss me off, iPhone cases with humongous built-in bulges should not be used to pry, and don't get me started on the ones embedded in the bottom of a dirty sandal attached to your stinking foot… I'll smash my bottle open against something instead, thankyouverymuch. I'm aware that you can put an opener on anything, but that doesn't mean you should.
With the Brewsees, I was mostly concerned about the integrity of the temple arms that would be used to pry a cap off a bottle, so the good folks at Brewsees Eyewear sent me a pair to allay my fears (and open my beers).
Brewsees come in a bottle koozie which doubles as it's case. Ingenious. The glasses are good looking, sturdy and opened my first "test" beer easily. They opened every other test beer after that as well. And they looked good on me; in a way, they truly are beer goggles… The more I drank, the better I looked.
Will the Brewsees replace my Oakley's day to day? No. But the optics are really good, and they are polarized and protect from UV rays, so I will undoubtedly wear these very often, particularly to BBQs and definitely to the beach… in fact I gave these a test run on my recent Caribbean vacation.
Their website says that each opener is formed from a solid piece of 6061 anodized aluminum and covered with a polycarbonate frame. But big words aside, I really like these shades. And they are a great price at $30 bucks with free shipping.
Brewsees at Brewsees.com
Pardon us please, while we pay for beer...