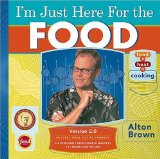 Food Network favorite Alton Brown began his career as a cameraman and learned quickly that most of the food shows served up on television are boring, boring, boring. Good Eats, his own half-hour show, is as splashy as his sport shirts, blending common sense, cooking wisdom, with sprinkles of spicy irreverence. Whether Alton is ranting about chef-induced cooking anxiety or discoursing about the "before and after" of flavoring, he is an education in himself.
I'm Just Here for the Food: Version 2.0
, his first cookbook (revised as version 2.0) is composed in the same jaunty spirit. The recipes are ravishing and the descriptions of cooking techniques are guaranteed to increase your repertoire.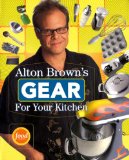 Alton Brown's Gear For Your Kitchen
has got all kinds of great tips and tricks that a gear-loving guy would love to cook with. And we're not talking about food processors and oven mitts–this is useful MacGyver-type stuff, like how to fake crosshatched grill marks on a broiled steak with things around the house. Forget the utensils in your kitchen… Alton's using the tools on your workbench.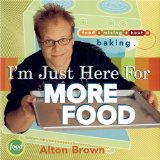 Alton's third book is titled I'm Just Here for More Food: Food x Mixing + Heat = Baking
. OK, that title is a mouthful… but Alton IS all about the math. The popular host of Good Eats explores the science behind our favorite sweets (breads, cakes, cookies, pies, custards and ice creams)explaining it all in his own inimitable style. At 304 pages, the trivia-filled tome also contains all the fun components Brown fans have come to expect: fact-packed sidebars, intricate illustrations, glossaries, appendices, equipment lists-the works. It's everything readers have been waiting for… and more!
Pardon us please, while we pay for beer...