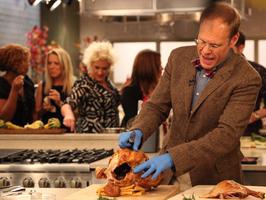 For the second year in a row, Food Network will air Thanksgiving Live, an interactive two-hour holiday special hosted by turkey master Alton Brown on Sunday, November 18 from 12PM to 2PM ET.
Food Network and foodie favorites involved include Giada De Laurentiis, Bobby Flay, Aarón Sanchez, Alex Guarnaschelli, Sunny Anderson and Ree Drummond. But you had us at Giada.
The special will call upon the network's stars to answer your holiday questions, such as: "Is Thanksgiving on Sunday, November 18th this year?" Alton and the guest chefs will take your questions from Facebook and Twitter (use the hashtag: #ThanksgivingLive) or you can ask a question on their blog.
And if you actually get stuck ON THANKSGIVING while deep frying your turkey, feel free to give us a shout on Twitter @BriansBelly.
Pardon us please, while we pay for beer...