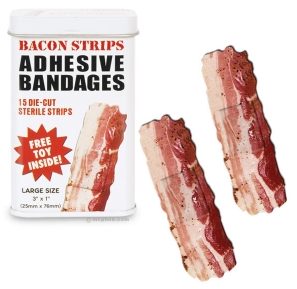 "Nurse, this patient needs more bacon, STAT!" screamed my doctor as he adjusted my corned beef hash drip.  And then I woke up.  My nightly dreams of eating bacon were becoming more frequent.
Treat your minor cuts, scrapes and scratches with the incredible healing power of meat.  The 3″ x 1″ Bacon Strips are cut to look like small slabs of bacon. Fifteen per metal tin.
The Bacon Bandage Strips are from McPhee and also comes in a Bacon and Egg variety and as Beef Strips for the kosher meat lover.
Pardon us while we pay for beer...