Little recipe index cards and a printout of your favorite Deep Fried Turkey Guide are only part of a successful analog holiday. Here are 5 free Thanksgiving-based apps for your iPhone or iPad to download (or avoid).
From the Developer: Flick feathers off the turkey with your iPhone or iPad! This is a game of speed and dexterity to see how fast you can pluck the feathers off a turkey! Multi-touch game with physics realistic feather falling action! Exclamation Point!
Our Take: Not much to this free game, but your kids will love it. I watch my nephews slice fruit with Ninja swords endlessly, so this might be a holiday change up.
From the Developer: Get ready for Thanksgivings [sp] day by going to the farm to whack some turkeys. In this classic "Whack A Mole" type game you get to play 15 progressively more challenging levels. Collect all the stars for all levels and get a thumbs up from the farmer for whacking enough turkeys.
Our Take: Can't beat a free game where you pound turkeys with a mallet.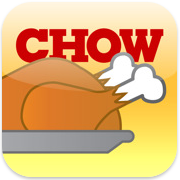 Chow Thanksgiving Dinner Coach
From the Developer: Even professional cooks say cooking a Thanksgiving meal is stressful. CHOW comes to the rescue! Not only have we put together nine of the easiest and most delicious traditional Thanksgiving recipes, we've created a clear, follow-along game plan. You choose which dishes you want to make, and we give you a step-by-step timeline that guides you through the entire Thanksgiving day (and the two days before, too).
Our Take: Traditionalists may find this app helpful for recipes and scheduling, but foodies and bold, experimental chefs will deem this useless.
From the Developer: Turkey? Check! Stuffing? Check! Mashed Potatoes and gravy? Check! Get ready to set the most spectacular Thanksgiving table with turkey and all the trimmings! With Thanksgiving Maker, you can arrange the table just the way you want- maybe re-create the holiday the way you remember it when you were young. Or, arrange a more hip, up-to-date version of the Thanksgiving table.
Our Take: This isn't anything like the Chow (above) in that it doesn't help you make Thanksgiving dinner at all. It's more like Colorforms for your iPad. I can't really imagine children enjoying their own custom table arrangement any more than you will.
From the Developer: Whether you are looking to keep your inner child entertained, or other children this is the app for you. The unique features found in this app will make any kid, or adult, feel like a coloring rockstar!
Our Take: It might be easy to argue that this would not keep my inner child entertained as much as, say, whacking or plucking turkeys. But it will keep your outer child entertained… modern, digital children who enjoying coloring and posting to Facebook instead of the fridge will keep busy with this while you're cooking up a storm. But keep the real crayons away from your iDevice.
Pardon us while we pay for beer...