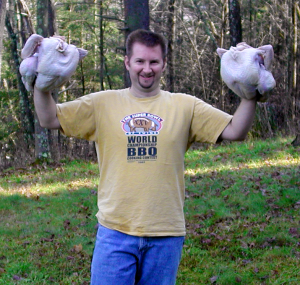 It's Turkey time! With Thanksgiving only about a week away, we'd like to make our annual appeal to you and your taste buds to consider deep frying your turkey.
First-time fryers should be getting their ass in gear… you have just enough time to do some research on what you need to get the job done and buy your fry rigs. Consider our excellent Deep Fried Turkey Guide as the easiest way to learn how if you are thinking of fowl-frying… don't let the turkey's get you down!
And our guide isn't just for fry noobs, every year we go through the comments and update the article with the best suggestions and ideas from experienced fry chefs, so no matter what rank you hold in the spectrum of sizzle, you may just learn a thing or two.
Every year we see Brian's Belly explode with traffic and comments on Thanksgiving day… everyone wants help deep frying their turkey on Thanksgiving. So this year, we're going to try to help you with your last minute holiday mayhem on Twitter while we live tweet (gobble?) our own turkey fry. We'll post some live pics of our own event and hope you'll do the same. You can get us at @BriansBelly and we'll be using #deepfriedturkey to try to keep track of it all.
This is a limited time offer… as soon as we're all buzzed and dinner is on the table (whichever comes first) we're going to give thanks and spend some time with the family, not that we don't like you guys.
Pardon us while we pay for beer...