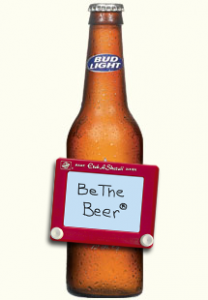 Never resting (or relying) on the simple taste of it's flagship beers, Belgian-owned Anheuser-Busch InBev has partnered with technology company Spear to introduce a new interactive label for Bud Light.
Using "metal activation technologies" (don't you love press release-speak!?) they have created an area of the label on where you can customize your bottle by using a coin or key to write a message or draw an image. Your Etch-a-Brew awaits.
The Senior Director of Bud Light sums it up nicely, "Bud Light drinkers are always looking for fun, quirky ways to express themselves, and the My Bud Light bottle offers them a canvas to do just that."
One day I am envisioning a bottle that you can write on, that can tell us if it's cold, and that can incorporate a vortex to "unlock hidden flavors" while I pour it down my gullet. If only AB InBev, Molson-Coors and SAB Miller could combine their billion-dollar marketing technologies. Oh, and put good beer in it.
What would you write on your Bud Light label?
Pardon us while we pay for beer...