It's not easy being green. But that doesn't stop millions of happy, drunk Irishmen or their boy-o's from celebrating St. Patrick's Day every year. March 17th is when the big drinkers come out to play. Thank God for the patron saint of beer. Paddy will be looking down over our shoulders, as he does every March, making sure that everyone has enough beer to flush a blarney stone and enough corned beef to clog at least two ventricles and your left atrium.
Just as sacred as the church-going homage to St. Pat is the street-going homage right past the cathedral on 5th Avenue in New York City… The New York Saint Patrick's Day Parade. Belly Buddy Mark Higgins takes a look at the history behind the Saint, the parade, the food and of course, the booze. Kelly-green beer drinking is optional.
Saint Patrick's Day: "Céad Míle Fáilte" One Hundred Thousand Welcomes
By Belly Buddy Mark Higgins

On March 17th it is usually said that there are two types of people in this world- the Irish and people who want to be Irish. Well, there is no better way to describe St. Patrick's Day than "Everybody is Irish." If you insist on telling people apart, the real Irishmen are the ones in the sheep-white, beer soaked, thick wool sweaters with a pint of nothing less than Guinness in their hands.
Living in New York City gives me the non-distinct pleasure of attending the largest St. Patrick's Parade in the world. You would think that a city like Dublin would hold that honor, but only recently have they made a big deal out of the "Feast Day." Tourists who didn't research their trip very well got pissed off when they went to Ireland for St. Pat's Day only to find everybody going to church.
This is because March 17th is the Feast Day of the patron saint of Ireland, Saint Patrick. He is credited with bringing Christianity to Ireland somewhere in the mid to late 5th century. Before that most people were worshiping "idols and unclean things." Basically a missionary, Saint Patrick had attained legendary status by the 7th century. By that time he had become the man who had driven the snakes out of Ireland (not to be confused with Whacking Day on May 10th, Springfield's annual snake-bashing day on which Jebediah Springfield was said to drive the snakes from the town with some skull-cracking). Saint Patrick also taught of the Holy Trinity with the help of a plant with three leaves on one stalk- the shamrock. Today it is the national plant of Ireland and Irishmen wear the shamrock on their lapels on St. Patrick's Day.

As it turns out, there is really no such thing as a shamrock plant. The word shamrock comes from the Irish word "seamrog" meaning "little clover". In Ireland, the plant most often referred to as shamrock is the white clover. The four leaf clover has come to be a universally accepted symbol of good luck with the four leaves symbolizing luck, booze, potatoes and of course, the pot of gold at the end of a rainbow. Others feel the leaves symbolize hope, faith, love and luck. Since finding a real four leaf clover is still a rare occurrence, it is considered an omen of good luck (we're still not sure about purple horseshoes though).
So St. Patrick's Day in Ireland has always been a very holy day. Attending church was the traditional way you would celebrate the day (although I'm sure there was some drinking involved somewhere). There were no parades or fanfare- the modern festivities are a result of tourism becoming one of the top industries in Ireland. The rest of the world has always celebrated with parties, parades and corned beef and cabbage (which, as we'll find, is an American dish).
---
Our Trip to Ireland: A Comedic Short Film
A few years back, we spent ten days drinking and driving our way around beautiful Ireland (on the wrong side of the road, we may add). With only a pocket-sized cam, we made this two minute short film. Watch>>
---
St. Patrick comes to New York
The first St. Patrick's Day Parade took place in 1762 when Irish soldiers serving in the English army marched through New York City. The parade helped them reconnect with their Irish heritage and with other Irishmen in the states. Over the next half of the decade Irish heritage flourished in the U.S. and several organizations were formed to aid immigrants coming here. Every March 17th these organizations would hold parades featuring drums and bagpipes (which the Irish borrowed from the English and Scottish armies) as well as lots and lots of drinking.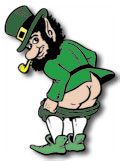 During the Great Potato Famine in the mid 1800's millions of poor Irish immigrants came to the United States hoping that we had potatoes. And like most immigrants they were the victims of stereotypes (see potato stereotype above). They were portrayed as drunk and violent monkeys in newspaper cartoons. Yet every year, Irish Americans would get up off their drunk, violent, monkey-asses and pour themselves into the streets of New York to celebrate Ireland's patron Saint.
In 1878, several of the Irish aid societies decided to unite their parades to form one New York City St. Patrick's Day Parade. The established political community took notice of the shear numbers who took to the streets and Irish Americans became a potent political force and before long. Soon the parade became a "must attend" event for political candidates and office holders, drunk and sober alike.

The Irish and Irish Americans are rich with history and tradition… the most famous being a corned beef and cabbage dinner. Well, that's not exactly true. The traditional meal is Irish bacon and cabbage. When Irish immigrants were flooding the shores of the USA they were poor and couldn't afford such a delicacy as Irish bacon. So they borrowed the cheaper alternative of corned beef from their Jewish neighbors.
But some of the traditions you cannot take away are their Irish pride and their love of good drink (like Jameson's) and good "craic" (pronounced crack). Craic is Gaelic for good times and good conversation. And if you've ever sat down for a pint with an Irishman you realize quickly that it has turned into many pints and many lengthy conversations.
You probably already know that Jameson Irish Whiskey comes from Ireland. Jameson's triple distilled whiskey matures for at least seven years before they send the bottles of that smooth stuff out of the distillery. It is enjoyed and appreciated by whiskey drinkers of all backgrounds but Irishmen swear by it (and it's not just cause they like to swear). Drink a glass on the rocks (the water is said to help release the flavors) or have a shot to ward off a cold or the flu. Some Jameson drink variations appear on this page.
St. Patrick Today

Time sure flies when you're having fun… the official New York St. Patrick's Day Parade has swelled into an event that sees 150,000 participants and draws nearly 3 million people who line the one and a half mile parade route. So if you want to celebrate this St. Pat's Day like we do here at Brian's Belly, gather all your friends and get to the parade on 5th Avenue (you can't miss it) to cheer on the pipers, the drummers, the firemen, the police officers, the sanitation guys who clean up after the animals, and all those cute baton twirlers. It's also the only day you can cheer for men in skirts and still project masculinity.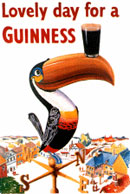 Beer can't even be in a brown bag here on the NYC streets but after the parade, stop by a pub and have a few pints of Guinness or Harp… a few places we can personally recommend in NYC are Stout (133 W 33rd.), Molly's (287 3rd Av), 5th and Mad–formerly The Galway Pub, née Hooker (E. 36th St bet Madison & Fifth Av), Paddy Maguire's Ale House (237 3rd Av) and Connolly's (four locations including our favorite on 47th St, between 5th and Madison where the house band is Black 47). To create a crawl of your own, visit Murph Guide for an extensive list of bars in NYC.
Perhaps raise a shot of good Irish whiskey and make a toast to all your good fortunes and good friends. "Slainte" (its pronounced as if you quickly slurred 'its a lawn chair') is the traditional Irish toast. Its like saying "cheers" in English or "salud" in Italian. Literally it means "to your health". There are many toasts that are fitting for St. Patrick's Day… but the wishes are welcome all year long. See page three of this article for our list.
After a long day of drinking, nothing beats a good home cooked corned beef and cabbage. As weary revelers, we inevitably end up at the home of Belly Buddy Ed McShea's parents where the corned beef and cabbage is abundant and the "craic" is flowing (they've also got a bar in their basement). Finish off the evening with a slice of Irish Soda Bread and a cup Jameson's Irish coffee. And of course, sleep is always welcome after a day of celebrating Irish heritage whether you are Irish or not.
NEXT PAGES: Food & Drink Recipes and Irish Beers, Irish Quotes & Toasts
Pardon us while we pay for beer...