By Belly Buddies David Lauterbach and Brian Bailey
The 2010 Memphis in May Barbecue Cooking Contest is May 13-15. Don't miss it! They have also produced an app for your smartphone to keep you up to date.
Quite a few years back–um, 1999 or so, when we were just a tiny little 5 page website–an unknown BBQ lover from Memphis, Tennessee named Ceylon Blackwell invited the Belly Buddies down to his home town for a cookout. As it turns out, what sounded like a small hometown backyard BBQ was in fact the World Championship Barbecue Cooking Contest, part of the Memphis in May International Festival held annually at Tom Lee Park on the banks of the mighty and majestic Mississippi river.
We said no.
It wasn't that we didn't want to accept a complete strangers offer to spend a weekend in the south; and it wasn't that we weren't gracious for the opportunity to don our aloha shirts and get the hell out of New York for some succulent southern swine- we just couldn't make it.
But in 2002, with some time to kill and a budget of over $37 we imposed upon our Southern Ambassador and headed down to Tennessee for the weekend to get a first hand view of the cook off that we have since heard so much about on Food TV and several other news outlets. Dubbed the Super Bowl of Swine (since changed to the Granddaddy of Grilling for circle R reasons) the contest took place over three days in which 54 tons of pork were processed, marinated, chilled and grilled. It is the largest pork barbecue contest on planet Earth.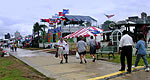 The festival was indeed an impressive site. The competition gathers over 260 teams doing their best to earn the bragging rights of "world champion." The three major competitions are whole hog, shoulder and rib. There are also several ancillary contests that are judged including "anything but" (pork), sauce and more including a Ms. Piggie contest (note the un-trademarked spelling). An estimated 90,000 people attend to see these teams compete for over $60,000 in cash prizes with the "Grand Champion" walking away with $19,000. As we made our way over the grounds and checked out the booths, we could tell that these people meant business.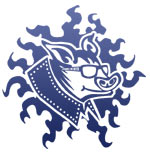 Well, most of these people meant business. A good deal of them are there purely to eat, drink and have a good time with their buddies. We spent most of our time with Ambassador Ceylon's buddies from Pigs In Zen. This very friendly (and very drunk) bunch of guys took us ignorant Yankees in, fed us beer and pork, and made us feel welcome in their two level tent. We thought we knew barbecue until we met them.

Pictured (l-r): Ambassador Ceylon Blackwell, Dan Mann, Staci Blackwell

P.I.Z. were officially entered in the rib competition, but we quickly found that although these guys were serious about barbecue, they weren't serious about competing. They were there to have a good old fashioned BBQ blowout, and that was fine with us. We are very grateful not only to Ambassador Ceylon Blackwell, but to Dan Mann, Shea Flinn, Jon McCrary, Joey Russell and the other 15 or so P.I.Z. members for their southern hospitality.
Thursday is a big party night for almost every team whereas Friday night separates the competitors from the carousers. The competitors get serious for the next days judging since they often spend well over $2,000 to compete. Not all the teams enter a contest and some simply pull the grill out of their backyard so they can be a part of the festival. These teams are known as the "Patio Porkers" and some consider being there a step towards competing seriously a year or two down the road. We were told by one team member that the late into-the-night traditions started because someone would have to stay up all night to watch the meat- someone… and 199 assistants.
When we weren't drinking their beer and eating their food, we roamed the festival trying to sink our teeth into a few other teams. We found the folks at Mack Daddy Meats to be very friendly… but not as friendly as the Pink Ladies BBQ team. What could be more inviting than women in tight pink tee-shirts cooking up ribs? A few of the other teams that we visited were the World Famous Larry Williams Barbecue Team, the Gassed Cookers, and Right On Q.

Do you find the names amusing? Most of the teams seem to follow an unwritten rule that the team name must include an awful BBQ or pig-related pun. Some of our favorites were Aporkalypse Now, Swinefeld, South Pork, The Hogfather, The Beverly Pigbillies, Barefoot in the Pork, Pork Fiction, Natural Born Grillers, Highway Ribbery, Notorious P.I.G. (formerly Piggie Smalls) and Gettin' Piggy With It.

Another highlight of the weekend was getting to sit in on a cooking demonstration hosted by portly NBC celebrity weatherman and Food Network personality Al Roker. He was there to hawk his cook book, Al Roker's Big, Bad Book of Barbecue– and between telling some risque jokes and burning the hell out of a huge porterhouse he shared some of his personal grilling stories and techniques.
There is also a main stage that features local bands, ceremonies, and contests. And we found a wrestling ring were a giant hairy mound of a man beat up on a helpless midget for half an hour. An entertaining sight, only made funnier by the beer-bellied referee spilling his drink all over the ring.
Eatin' our Way Through Memphis

The main reason we headed south in the first place was to stuff our faces with true American BBQ… not back yard hamburgers and hot dogs–but the real-deal, slow-cooked, smokey barbecued meat. We ate our fill–and more. Although teams can't just offer passers-by a taste of their bounty (the teams are not allowed to share food with the public because of Memphis Health Department restrictions) we managed to get our fair share of samples. For all visitors, there is also a designated area when you can purchase meals from previous winners of the championship as well as your typical carnival-type crapola like corn-dogs, funnel cakes, churros and perhaps the greatest thing ever invented… a scoop of ice cream in-between two hot waffles.
Outside of the festival, Memphis has it's share of barbecue restaurants. A favorite of the locals is a humble establishment called The Bar B Q Shop Restaurant (1782 Madison Avenue). This is a down-home restaurant that has been using the same recipe for more than 50 years. We tried the cheese plate appetizer with peppers and barbecued bologna and the sampler platter that gave us a taste of everything they had to offer. One thing that we just had to try was the oddly named Barbecue Spaghetti. Turns out, it was a large bowl of noodles smothered not in the traditional tomato sauce, but instead covered with a smooth and smoky barbecue sauce. As he wolfed down a large forkful Dave remarked, "I'm never eating spaghetti the old way again!" We walked out of there amply full (to say the least), but still carrying pretty large doggie-bags. The portions were huge.
We were also recommended to try The Rendezvous, located in an alley across the street from The Peabody near Beale Street. The Rendezvous has dry-rub que that's usually pretty good, and the atmosphere is terrific. Surly waiters grumble at you and you must be prepared to order on their terms, and their time schedule. It is part of the charm in this old Memphis standby. The ribs were much better than any we could hope to find in NYC, but we both felt that Memphis could do better (we were right… see the Bar B Q Shop). The best part of The Rendezvous was their sublime baked beans. Awesome.

As good as the local restaurants were, the food could not hold a candle to the grub we grubbed from the competitors at the festival. Dry-rubbed ribs, slow smoked pork shoulder and the simple kielbasa grilled with seasoned salt (not to mention the steady stream of cold beer) kept a satiated smile on our faces for three days. Truth be told, we honestly feel that our own Belly Rub, which can be found on this site, stands up pretty well to a lot of what we tasted down in Memphis. Not bad for a couple of fat New Yorkers, huh?
Beale Street
No visit to Memphis would be complete without an intoxicated stroll up and down and up Beale Street. Think of it as a short, wide Bourbon Street without the drunken, naked women. The street is lined with bar after bar, each blaring its own particular brand of Memphis blues.

The largest and most popular of them all (read: the perfect tourist trap), Silky O'Sullivan's offers indoor and outdoor drinking with a large-ish outdoor stage. B.B. King has his original club there and a Nawlin's-style Pat O'Briens is also under construction… however, we gravitated to the smaller, seedier joints that did not cater quite so much to the tourists.
A word of warning- Memphis is not famous for their beer selection. We struggled to find anything more exotic than Bud Light on the street- as far as we know Memphis has no "local" beers (maybe this is why they sing the blues). However, across from B.B. King's in the middle of the block we found our favorite joint- the Beale Street Tap Room (168 Beale Street). This was our favorite place on Beale Street that served "real" beer including a few favorites of ours from neighborhood states, like Shiner Bock from Texas and Louisiana's Abita Turbo Dog. Additionally, just off Beale is the Flying Saucer Draught Emporium (130 Peabody Place). It is home to 75 taps and a beer garden.
Acrobatic street performers provide a nice diversion from the never ending thumping of blues riffs. Also, every corner has some form of street musician or another. All these fun entertainers were drowned out however, by the bellowing of Bible-bangers who showed up to try and save the souls of all the good people having themselves a fun time. Ah, the South.
As you make your way home from Beale, do not be afraid to negotiate with the taxi drivers as they all but admitted to shutting off their meters and overcharging drunk tourists as much as double the normal fare. Not us though… we were only taken for a 50% "dumb tourist fee" on top of the fare.
Wrapping It Up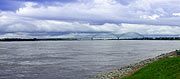 The names of the winning teams were announced on Saturday in a ceremony on the main stage, which prompted us to say "Who?" as we never visited with any of the teams mentioned. This goes to show how many teams there were. The names of the winning teams (as well as wealth of other info about the festival) are all available online at memphisinmay.org.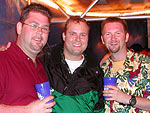 Belly Buddies: Authors Brian Bailey (left) and David Lauterbach (right) with Ambassador Ceylon Blackwell (center).

Even though we had a great time, met some great people and ate some great food we recognize that the World Championship Barbecue Cooking Contest may not be for you. If you are planning a trip to Memphis, May is a great time to come as there are festivals all month long, including the Beale Street Music Festival and the Southern Food Festival. In addition to media passes, we were lucky to have Ambassador Ceylon who introduced us to a couple of teams that were generous enough to let us hang around. If this is not a luxury you have, you may find it difficult to find a team that will allow you join their party. All the booths are open to invited guests only. If you are uninvited you will basically spend your weekend looking over various fences and smelling that which you cannot eat. Since weather is also a factor at outdoor events we were grateful to have friends at the festival when an impressive windstorm kicked up off the river causing us to freeze our cojones off.
The excitement of the experience will stay with us for quite some time. In fact, it has started us thinking whether or not we could field a BBQ team of our own- and more importantly, what pig-pun we'd use as our name. New Pork City? The Potbelly Buddies? Go Pork Yourself? The Pig Lebowski…?
Have you been to Memphis in May? What's your opinion of the festival?
Pardon us while we pay for beer...