Guinness Corned Beef

Print This
UPDATED MARCH 2011.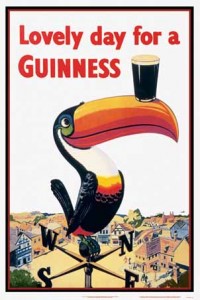 Although originally submitted to the site by Belly Babe Diana Warrick, I have completely hijacked this recipe to make it my own! After 10 years of making it, I know how to do it right. I've been futzing with oven temperature, brisket size and a few other things to make it perfect. It seemed that 4lb briskets were too large to cook with any speed, and adding veggies half-way through was a sure way to forget to add them at the right time (or at all). I like to set it and forget it. Also, I feel like I was using too much Guinness (if that's possible) and the carrots have been scratched altogether… they just never tasted right.
But don't let my nitpicking deceive you, what remains now is a delicious alternative to your favorite boiled meat 🙂 And I never make just one… so here is my recipe for two corned beef briskets.
Ingredients:
2 3-pound corned beef briskets
1/2 cup of brown sugar
1 14.7 oz can of Guinness Irish stout (or your favorite stout beer)
1 head of cabbage
2 pounds of white potatoes, peeled and cubed (more if needed)
6 slices of delicious, nutritious bacon
Preheat oven to 350° F.
Place the briskets fat side up into two roasting pans or Dutch ovens. Put three slices of bacon across each brisket (I prefer think cut bacon for this). Cut the cabbage down into wedges (you should end up with about 16 wedges) and place them around the brisket… also surround the brisket with the cubed potatoes. If your brisket came with a spice packet, sprinkle that over the brisket, potatoes and cabbage.
Pour about a quarter of the can or bottle of stout beer into each pan, and over the beef. Sprinkle the brown sugar on the wet corned beef to coat. Pour the rest of the beer into your belly.
Cover the pans and place in oven. Roast for 1 hour and then stir the potatoes around. At the 2 to 2:15 mark, check your temperature with a meat thermometer. Beef should hit between 160 and 170 degrees F.
Allow the brisket to rest 15 minutes before slicing. Who gets the bacon? That's for your corned beef & bacon sandwich tomorrow 🙂
Let me know how you like it!
Pardon us while we pay for beer...