Originally posted in 2002.

"Why don't you have a review of Guinness on your site?" "Why don't you have a review of Guinness on your site?" "Why don't you have a review of Guinness on your site?" Sometimes our emails all start the same- "Dear Idiots, Why don't you have a review of Guinness on your site?"
Would you even read a review of Guinness without your own preconceptions? When you clicked on the link to read this article, you didn't really click it to find out our opinion of Guinness- you already know that we like it and drink it and that you like it and drink it. Something else brought you here. Perhaps it was interest in the widget… perhaps it was interest in the new draught bottle. Perhaps you were wondering if the correct spelling is draft or draught. Well, let me try to satisfy your interests.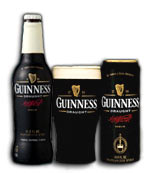 You all probably know that Guinness Draught is not exclusive to your local pub anymore. It has been available in cans since 1988 and since February, 2001 in bottles (we're not talking about the Guinness Extra Stout bottles with the golden label that most people avoid). Guinness has spared no expense in trying to make your drinking experience as close as a trip to a pub in Ireland as possible.
The key, as you know, is in the widget- a patented capsule of nitrogen that is in encased in the can during the canning process. It sounds simple- stick ping pong ball full of gas with a little hole in it into the can to make it fizz when you open it. But that's not quite right- and there is a lot more going on in there.
To get the perfect pour from the "nitro" can, Guinness has done several things to insure that it's beer is served right. Although you may not realize it at first, Guinness is less fizzy than most beer- it is canned with less CO2 than other brews. But before they seal it up they add the empty widget and give the can a hit of liquid nitrogen to help pressurize the container- and yes, liquid nitrogen is the same element that can stop the Terminator cold. Some of it evaporates causing the can to pressurize and forces beer into the hole in the sphere, compressing the nitrogen into the widget. When you pop the top, the pressure releases in the can and the nitrogen in the spherical widget forces the beer that was drawn into it out of the little hole. The nitrogen-agitated beer mixes with the CO2 that is already dissolved (some of which is naturally forming in the can). Further, when you pour it into a nice clean, soap-free glass it creates a thick, creamy, legendary head that Jim Koch would have wet dreams about.
[sniplet Inline Google]
So for years now we have been able to enjoy Guinness at home from the can (heh-heh). But you can't drink Guinness from a can and this bugged the bottlers at the St. James Gate Brewery. They have been worried all these years that since you need a pint glass to enjoy their beer that you may be less likely to grab a Guinness on your way out to the pool or while driving in the car.
So they have now created a widget for the new millennium (to the tune of $13 million) and placed it in a bottle that you can drink from. The "rocket widget" debuted in Ireland in 1999 and here in the United States in test markets in 2001. It is now available everywhere in the U.S.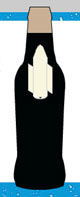 In the bottle, the rocket shape helps keep the widget oriented correctly. When you pop the cap, most of the pressure is released from a hole in the bottom of the rocket widget which has compressed beer along with gaseous nitrogen. Then with each additional sip as you drink, a little more pressure is released, a little more agitation occurs and a tiny head is kept on the beer in the bottle.
So how does all this science make the beer taste? To actually do this comparison the right way, I ordered a pint from an Irish bar up the street and walked it home. I then cracked open a can and poured it into a pint glass and popped the top on a Guinness Draught in a bottle.
My results? Personally I think the bottled beer comes a little closer to the actual draught beer you'd find in a bar or pub. The canned version pronounces the bitter aftertaste that I never usually notice- the fact that I have all three versions at my disposal makes it more prominent. The bottle seems to be the most creamy of the three, especially when I got down to the bottom… it was consistent in it's thickness to the last drop. My only complaint about the bottle would be that I am not getting 12 ounces; rather they are packaging 11.2 ounces into what should traditionally be a 12 ounce bottle. Not good at math? That's a beer and a half less per case of 24. Guinness does the same with their 14.9 ounce can (Boddington's seems to be the only can with a widget that actually gives you 16 ounces).
Does the bar drawn pint from a tap win hands down? I don't think so. I actually preferred the bottle over the true draught in this taste test. Guinness purists will have my head for saying that, but you must keep in mind that a) I live in the Bronx, not Dublin; and b) Guinness will be served differently at different brew pubs in spite of the best laid plans of the Guinness companies. I like the consistency of the bottle- there are too many factors that can't be controlled with the tap including how clean the glass was and how clean their lines are.

This makes the perfectionists at the St. James Brewery cringe. This, along with the fact that they believe that when a bar patron has to wait two minutes for a Guinness that they would rather order a 10-second Budweiser, has prompted a yet another paradigm shift in serving beer. I have heard rumors of a new draught delivery system for pubs that will serve the brew as if out of a can or bottle- agitating the beer with a burst of nitrogen after it's drawn into the pint glass… ready to drink in twenty seconds. [UPDATE: This system has since been tested and abandoned; apparently people are willing to wait two minutes… I know I am].
Guinness is often thought of as a high calorie beer but the official word from Guinness is that it is less than 11 calories per ounce. A 12oz serving has 125 calories, 9.8 grams of carbs and it's alcoholic content is 4.2%. For comparison, 12 ounces of Budweiser is 150 calories and 11 grams carbs, 12 ounces of Heineken is 150 calories and 12.2 grams of carbs, 12 ounces of Corona Extra is 148 calories and 14.1 grams of carbs, and SURPRISE… a Sam Adams Light has 126 calories and 10.9 grams of carbs. Of course, I don't know anyone who only drinks 12 ounces of Guinness (or any beer for that matter) so your mileage will vary.
For an animated look at how the new rocket widget works, take a look at the Guinness site. The Guinness WebStore also has quite a selection of branded products for any proud Guinness drinker.
Oh, and draught is a variant of the word draft… now you know.

Belly Laughs
How To Get A Rocket Widget From A Bottle Of Guinness
Get a good look at the nitrogen-burning rocket widget in your next bottle of Draught. Collect and trade them! Do not try this at home, unless you're an idiot.
Illustration (drawn) by Belly Babe Liz Bartucci; color design (colored in) by Belly Buddy David Lauterbach
There are 252 archived comments…
View All
Pardon us please, while we pay for beer...