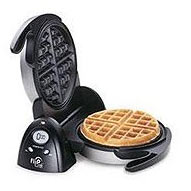 A good number of years ago, I banished frozen waffles from my freezer and gullet. They tasted like sponges and always gave me heartburn for some reason. I pushed on through life without waffles… who would have thought I could have made them myself?
Of course, this was before I considered myself a foodie. I grew up in a pancake family (they were flapjacks when we went on vacation) so waffles were not made, they were heated in the toaster. This all changed when I bought a Belgian waffle maker… the Presto FlipSide Belgian Waffle Maker
to be exact.
You may be aware of my trepidation of anything Belgian ever since they bought our beloved Anheuser-Busch and made Budweiser a foreign-owned beer. Beer politics aside, diner-style Belgian waffles have been a favorite of mine ever since I invented the Belgian Burger (a hamburger with bacon on a Belgian waffle, covered in syrup) at 3AM one morning at the Tremont East Diner many years ago.
But now I can have crispy-on-the-outside, fluffy-on-the-inside Belgian waffles any (weekend) morning that I want. The Presto FlipSide is a snap to use… pour your batter onto one side, close the cover and flip the griddle on a pivoting hinge. The "flip" allows the batter to level nicely on both sides of the waffle. Hit the built-in timer (set it for 3:00 to 3:30 minutes) and flip out a perfect waffle.
The instructions say not to use cooking spray, but when do you listen to instructions? After the very first use, when I "seasoned" the griddle, I turned to the ease of cooking spray. It works great, and clean up doesn't get any easier… I use a paper towel.
The Presto FlipSide Belgian Waffle Maker
is at Amazon for $35-$40.
Pardon us while we pay for beer...