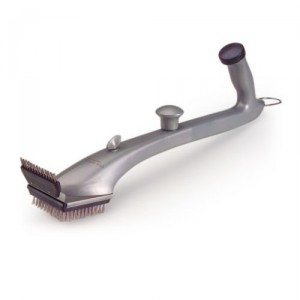 As we have mentioned before in our Guide to Grilling, keeping your grill surface clean is important… don't just "burn it off" or expect last week's burger gristle to make this week's chicken breasts taste better.
To keep my grill clean, I typically keep a water spray bottle and a brass-bristled brush handy (and a nifty device called Grill Floss to get underneath the grate-gunk).  So when I stumbled upon the Grill Daddy Pro Grill Brush
I thought, this POS is probably not something I need. But the reviews on Amazon
were so overwhelming positive, that I decided to order one to give it the Brian's Belly once-over… you know, to nay-say and maybe even add it to our list of retarded BBQ products you definitely don't need.
But I have to say, I somewhat like the Grill Daddy. It's bigger than it looks in the pictures… from handle to tip its about 22 inches. The stainless steel brush pad itself is almost 4″ x 4″. To my dismay, the body is made of plastic (they do make a much pricier aluminum one
) but for under $20 at least the dual-bristle system is pretty rugged (and replaceable).
You fill the Grill Daddy with tap water and using a valve to control the flow (or, more accurately, the clumsy dribble) water exits the business end and into your warm grill where steam is created. It's hard to say how much work the actual "steam" is doing versus the stainless steel bristles, but the Grill Daddy does a good job cleaning.
What I'd like to see in a "pro" model though is a water pump trigger on the handle for misting water right onto the grill instead of the dribbling valve on the neck of the body that the Grill Daddy Pro currently uses. I can currently do this with my flare-up bottle… I just twist the nozzle from stream to spray.
If you already have a good cleaning brush and keep a spray bottle filled with water by the grill for flare-ups then you probably don't need the Grill Daddy Pro Grill Brush
, but if you have a need to clean and no means to steam, give the Grill Daddy a shot.
Pardon us while we pay for beer...