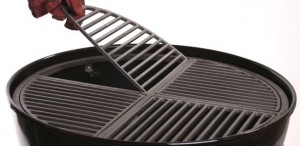 Pimp your Weber grill with a Cast Iron Grate. This long-lasting replacement for your standard steel or aluminum grate heats up faster, gives off more even heat and can withstand higher heat. And don't forget the perfect grill marks.
This German designed grate system offers some great modular convenience to by allowing you to add a few accessories, including a griddle/hotplate combo and a vegetable wok.
If cared for correctly, cast iron grates will last a long time. Priced from about $70 for an 18″ kettle grill up to about $120 for the larger ones, Craycort also sells certain square grates for your Weber Spirit or Genesis grill and other brands like Smokey Joes and Bodum Frykats.
Cast Iron Grates available at Amazon
. Story via Uncrate.
Pardon us while we pay for beer...