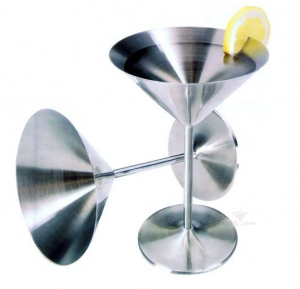 If you're too swank for diamond plating, then these stainless steel martini glasses might be for you.
Featuring satin finishes and 18/8 stainless steel construction, these handsome stainless steel martini glasses outlast, and keep your drinks colder longer than their glass counterparts. Each glass holds 8oz.
I have a set of these from a few years ago and they are ideal for new year's eve, which is just about the only time I have martinis–due to an "incident" many years ago.
Stainless Steel Martini Glasses via Amazon
Pardon us please, while we pay for beer...