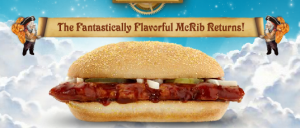 The McRib, the elusive sandwich that has inspired a cult-like following, is back. McDonald's announced Monday that the boneless barbecue pork sandwich, usually available in only a few stores at a time, will be sold at all U.S. locations through Nov. 14.
Most of the time, it's up to local franchises to determine when and if they want to sell the McRib — except in Germany, the only place where it's always available, which I find very odd.
McDonald's said the response was so great last November when it made the McRib available nationally for about three weeks that it decided to bring it back nationwide this year. Previously the company hadn't sold the McRib nationally since 1994.
For me the McRib mostly brings back memories of The Simpson's episode where Krusty Burger sells the Ribwich for a limited time. Get one now before the unidentified animal it's made from becomes extinct!
Pardon us please, while we pay for beer...