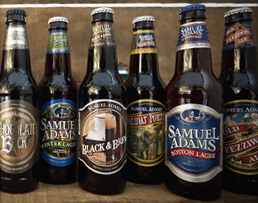 Boston Beer is set to roll out four limited-edition brews this holiday season that include flavors such as fruits, chocolates and chilies, oh my. In addition, the brewer has 2011 editions of Infinium and Utopias, as well as a new beer in their Winter Classics Sampler pack.
First up, the small batch beers in big sizes. Tasman Red, Third Voyage, The Vixen and Griffin's Bow will all be available in 22 oz. bottles with alcohol content ranges between 6.75% and 11.5%. Tasman Red and Third Voyage are IPAs, but Griffin's Bow Golden Barleywine and The Vixen Chocolate Chili Bock sound a bit more interesting.
This year's Winter Pack will include Black and Brew Coffee Stout, which is an ale with coffee added, along with 5 returning beers: Holiday Porter, Chocolate Bock, Old Fezziwig, Winter Lager and–for reasons I will never understand–Boston Lager. The pack does stay on it's toes, often changing it's offering. One of my favorites in the pack was always the Cream Stout (now available separately) but I am looking forward to trying the Black and Brew Coffee Stout. And the Sam Adams Winter Lager is about as good as they come–I have this on tap right now 🙂
And Sam Adams Utopias and Infinium both have new 2011 batches becoming available. We tried the Utopias back in 2009. This biennial non-beer beer is a pricey ($150-200) limited-edition "keepsake" in a numbered, ceramic brew kettle-shaped decanter with a faux copper coating.
Infinium was first released last year and is a champagne-like brew that is perfect for your new year's celebration. I personally liked this much better than the Utopias, and at about $17 was a better score.
Also of note from Sam that has a holiday, gift-giving, beer-bringing vibe to it is the Imperial Series. Double Bock, Imperial White, Wee Heavy and Imperial Stout all come in four-packs, and are considered stronger in flavor and alcohol content than regular beer. I can only speak for the Imperial Stout that I recently sampled which I preferred over many other stouts I've had recently, but Wee Heavy–a Scotch Ale–is next on my list.
More info at MarketWatch and BeerNews.org.
Pardon us while we pay for beer...