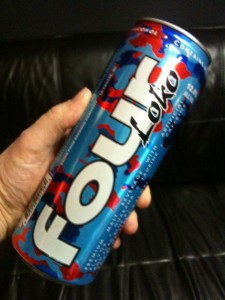 Four Loko, my favorite high-alcohol, super-caffeinated, hard-to-get, Saturday morning breakfast treat is being recycled into ethanol and other products after federal authorities told manufacturers the beverages were dangerous and caused users to become "wide-awake drunk," according to the AP.
After November's FDA foot-stomping on sales, Virginia, North Carolina, Maryland and other East Coast states started sending "about a couple of hundred truckloads" of Four Loko to companies in Virginia that can recycle ethanol. FDA Commissioner Margaret Hamburg said that consuming the drinks has led to alcohol poisoning, car accidents, assaults and underage drinking… all things that apparently would never happen with beer, wine, alcohol or any other malt liquor.
The A.P. mentions that there are "about 30 different products involved" but the jumbo can of alcohol, caffeine, taurine and guarana has taken it's place as the malt beverage whipping boy and headline brand for the ridiculous crackdown.
If you're concerned about the fate of the cans, don't fear… the facilities distill the alcohol from the drinks, where it gets blended into gasoline and sells the aluminum cans to a recycler where it takes "30 days until it's back on the shelf as another beer can."
Pardon us while we pay for beer...