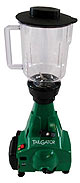 Imagine, you're at a tailgate party or in the infield of the Daytona 500 or even just out camping. You decide it's about time to have a margarita and make some new friends. So, you whip out your Tailgator
– a gas powered blender that takes the sting out of making girlie drinks. At only 10 lbs., the Tailgator sports a 24cc 2-stroke engine which generates enough torque to whip up a pitcher of your favorite frozen beverage in just about 15 seconds. Its 60 oz. plastic pitcher is light-weight and detachable for easy pouring and clean-up.
They are also sold with a carry case

(because every good tool in your collection has a carry case). It's a steep $365, but if you break it down, that's only a dollar a day for a year- and imagine all the chicks you'll meet.
Pardon us while we pay for beer...