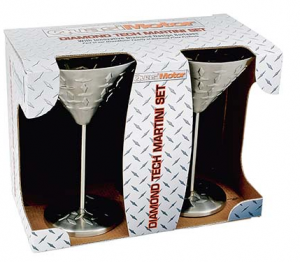 The KutMaster Diamond Tech martini glasses add an unmistakable style to your bar… moreso if your bar is in your garage, like mine.
The stainless steel diamond plated glasses are a bit more durable than traditional glass for those roudy guests.
They also make a matching barware set that is diamond plated and comes with a shot glass.
Currently at $7 and $15 buck respectively, they're pretty cheap too.
From Northern Tool… also found them at Kotulas.com.
Pardon us please, while we pay for beer...