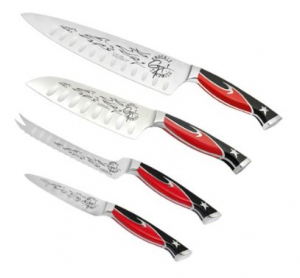 Guy Fieri's Knives are multiplying, and dividing. Wocka wocka. Two years ago, Guy came out with the Knuckle Sandwich knives which included a durable 8″ Chef's knife
and something straight from hell he called the "Dragon Dagger
."
It seems the "Bad Boy" of Food Network has been busy. He's added a few more weapons to his arsenal of kitchen cutlery. His knife collection has grown to include a 4″ Paring Knife called the Lil' Guy,
a 5.5″ Santoku Chopper
and the 6.5″ Knuckle Sandwich Meat Cleaver called The Beast
.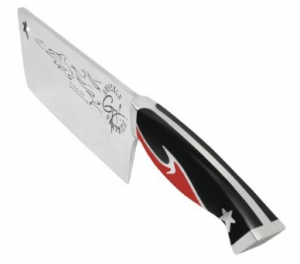 Guy hooked up with the designers of Ergo Chef to create these hot rod knives with some great specs–they feature high carbon German stainless steel, precision heat treated to 56RC and ergonomic design… but it's the technical and aesthetic design that really rocks.
I have owned the 8″ chef's knife and the Dragon Dagger for two years now and I love using them. The Beast is on my wish list this year.
The Knuckle Sandwich knives are also available in the original set of two
, as a set of four
and a the Big Baller Cutlery Set, which has 13 pieces
including a block called the Battle Station that also holds his matching black steak knives
.
Pardon us while we pay for beer...