…CONTINUED FROM PREVIOUS PAGE

Prior to attending his cooking class, I would never have considered making pasta. But as I watch Alton mix and roll his own, I start to think that I could actually do this myself. Coming from a background that was devoid of an Italian grandmother, no one ever made me fresh pasta or fresh sauce. Now I want to do both, not just because I like to cook but because I like to hack–and I learn that if I combine an ironing board with a pasta machine I will create the perfect pasta-rolling platform for the home.

In his second book, "Alton Brown's Gear For Your Kitchen," Alton partially relies on tools from other trades to get the job done. Using such unlikely items as a plumber's propane torch for charring, a gardener's flowerpot as cookware, and a carpenter's cordless screw gun that–when combined with an ordinary pepper mill–begets the "Grind-O-Matic 5000." "The gear we choose defines us" says the author.
But the book does more than hack the garbage you may have around the house. It includes the daily utensils that everyone has in their kitchen drawers (even single bachelors in one-room apartments) as well as the stuff I've never heard of (who knew a Mandolin was for cutting potatoes? I thought it was a tiny guitar… or harp, or something). Admittedly, the book covers gear that a lot of us Brian's Belly guys will never use. This doesn't mean stick with your spatula and never want for more… in fact, reading through it made me wonder how I've lived for so long and never owned spring-loaded tongs [I now own several pairs].
Alton likes to define himself as a hacker, not an inventor. But as he speaks about the new line of Trivection™ ovens that he helped design it becomes clear that he will help usher in a new era of cooking appliances. "One of the reasons I have a relationship with GE is to actualize those inventions. They've got the brain boxes to make things happen, and the funding and whatnot."
Modifying devices to make life easier (or cheaper, or better) is an admirable skill. In conceptualizing new hardware, Alton is crossing the defining line he drew into inventing. So when we add inventor to the list that already includes scientist, teacher, writer, creator, host, prop comic, and–whether he likes it or not–chef, we begin to see a real renaissance man here. However, given the chance, Alton will debate you on each of those labels always concluding that he is no more than a groovy Home-Ec teacher.

"I would certainly love to be [a renaissance man]. If I have heroes… Theodore Roosevelt ("Do what you can, where you are, with what you have"), Thomas Jefferson ("It is wonderful how much may be done if we are always doing") and a renaissance man if there ever was one, Leonardo Da Vinci ("With my big dipper machine I'll rule the world! Nah ha ha ha!"). Yeah, a renaissance man would be sweet. Renaissance man just means somebody who is loyal to no particular discipline who learns what he does and applies it to everything else he does."
"But that's what you're doing!" I almost shout. "Okay, well then that's what a renaissance man is, only most famous renaissance men get paid really well for it and they have a whole lot of talent. My only talent–I already told you–is being able to translate things. I think to live a full life, the idea of doing just one thing or being interested in one thing is drab. Maybe if I was really, really, really, really, really good at one thing… like Earnest Hemingway good or Picasso good at something it would be enough, but I'm not, so I have to be a salad bar. The people that I envy are either the people that have excelled at many things or the people that have been unequaled at specific things."
Could this article BE any longer?
Alton has a tatoo of a bee on his left shoulder based on a work by artist Mark Ryan. Alton's company is named "BeSquare Productions." Coincidence? Probably not… the words are spelled differently.
It seems natural while we're talking over a couple of beers that the conversation will eventually turn to beer. This is good for me since our site is about food and beer. In a season-six episode, Alton tackled brewing your own (yes, beer is good eats) and put our own BIY article to shame. We happen to be drinking Hoegaarden (cause I knew you'd ask) but we're all over the place with our beer discussion and opinions. Since you can find out what I think all over this site, why don't I tell you what the celebrity thinks.
"The difference between someone who really appreciates beer and a beer snob is that someone who really appreciates beer will learn, understand and accept a wide range to the exclusion of nothing. Someone that learns and then uses their knowledge to exclude other things I see as a snob. Okay, if you don't like Bud don't drink Bud, but don't drink Bud because it's not hoity-toity microbrew. A lot of people in this country will drink a Foster's not realizing that in Australia, Foster's is held in lower regard than Bud is here. I don't how many times at home I've had sushi and Bud for lunch. When you taste something like Budweiser–which is mostly rice–and start tasting other beers like it, i.e. Japanese beers, you realize that they actually go well together.
"When I want to taste complex beer with a heady aroma, that's finely crafted, I'm not drinking Bud. You know what, I'd rather have a Bud than a Diet Coke for God sakes! I know that after mowing the lawn on a Sunday afternoon that a Bud tastes better than a Samuel Adams, it tastes better than an Anchor Steam, it tastes better than a Red Hook ESB, it tastes better than a Sierra Nevada, it tastes better than any of a hundred different regional microbrews I can name… all of which I like… but I really just want something kind of beer-like, you know (laughs)."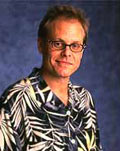 Maybe the beer is finally kicking in, but it is time to ask the big question… the one that I came here for and the one that everyone at Brian's Belly has been dying to know… "Where do you shop for your shirts?"
"Nordstrom! And there's a men's shop, right across the street from the W [Hotel] at Union Square… I buy shirts there whenever I'm in town. Some of them come from the Internet, and the rest of them my wife finds. I'm a very boring dresser. I could wear a black Gap tee shirt with jeans or khakis every day and that'd be fine by me… I hate thinking about clothes but on 'Good Eats' we need to have a little style, so we do what we have to do."
The stylish textiles are only part of the show that could be a sitcom if it had a sexy sous chef and a laugh track. "What can we expect to see on the next season of 'Good Eats?' A new wacky neighbor? An episode where you sing? How about a very special episode where you get a 2nd degree burn and have to be rushed to the emergency room?" I ask.
"Well, oddly enough the singing and the emergency room are already in the works, so funny that you should mention that. Immediate shows in the pipeline… a show on lemon meringue pie, a show on herbs, a show on spices… a show on–this is my favorite–toast. We have a show on bananas, a show on nuts, we have a one-hour special on cheese… as in 'who cut the.'
"I'm hoping to start doing a series of one-hour documentaries about food issues… important things going on [in the food industry] like irradiation, genetic engineering and food-borne illnesses, as well as serious looks at foods that have histories that are simply too fascinating to ignore. So I'm hoping to actually turn half-journalist. There is a lot going on in the food world that people need to know. I think that Food Network has a responsibility to not just entertain, but also to do some hard, fast informing."
As of this writing, there is nary a repeated topic in over 100 episodes, "Good Eats" has no signs of stopping, but Alton is ready when it does. "Hopefully [after the show is over] I'll rise from the ashes and do something good, I don't want to just recycle myself. I'd like to think I can do more than one thing."
A BONUS PAGE with Alton Brown recipes is next…
May 2010 Updates: "Good Eats" is currently in it's 14th season. Alton has also moved into a fitting commentator role on "Iron Chef America." Check the Food Network's schedule to find when "Good Eats" and "Iron Chef America" can be seen.
Illustrations reprinted with permission; ©2003, Stewart, Tabori & Chang. Recipes courtesy Alton Brown and Stewart, Tabori & Chang.
CONTINUED ON NEXT PAGE…
Pardon us while we pay for beer...