Quick Links

Our Trip to Ireland: A Short Film
Brian's Belly Beer Bottlecap Brainteaser
Classic PBR Commercials
How To Get A Rocket Widget From A Bottle Of Guinness
Top Ten Drinkinest Movies
Turkey Shoot
What Makes A New York Hot Dog So Good?
Heavyweight Hall of Fame
The Belly News
Chef & Shatner
Other Website Stuff


Brian's Belly Originals


Our Trip to Ireland: A Short Film
We spent ten days drinking and driving our way around beautiful Ireland (on the wrong side of the road, we may add). With only a pocket-sized Sony DSC-T1 and a gig of ram, we made this two minute short film.


The Top Ten Drinkinest Movies of All Time
You say you enjoy drinking a six-pack on the couch while watching movies, but all these good-looking, sober, Hollywood-types make you feel like a lush? Well, loosen your belt, dust off your VCR and throw back a shot of our top-shelf vicarious video. It's time for The Top Ten Drinkinest Movies of All Time!



How To Get A Rocket Widget From A Bottle Of Guinness
Get a good look at the nitrogen-burning rocket widget in your next bottle of Draught. Collect and trade them! Do not try this at home, unless you're an idiot.

Illustration (drawn) by Belly Babe Liz Bartucci; color design (colored in) by Belly Buddy David Lauterbach.

Also read our review of Guinness Draught and learn how the newest bottle widget works.



The Belly News
More informative than the back of a cereal box, we bring you the news as we see fit.


Archived


Iron Chef USA
Chef & Shatner. Today's secret theme ingredient... Romulan Ale.


Off-Site Beer & Food Related Calamities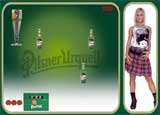 Pilsner Urquell sponsors a flash game... and we do mean flash. It's a version of Kaboom with beer bottles and stripping ladies. If you score high enough, the woman takes off her clothes! Just like in real life! Find it here.

Beer Screensavers
Over one hundred beer related screensavers for your computer can be found on Jan's Beer Pages.



Jet Powered Beer Cooler
The worlds first jet powered beer cooler. Follow the link to a story about a shed, a warm beer and a home made jet engine.

Fat Lane Online
See how some of today's celebrities are battling weight problems and living life in the fat lane. Fat Lane Online takes a tongue-in-cheek look at some of today's biggest celebrities and makes them look like, well, today's biggest celebrities.


Nice Rack
We don't remember where we found this image, but this girl has what all guys want.

iLoveBacon.com
ilovebacon.com is self proclaimed as "juvenille humor for grown-ups and more fun than a barrel full of ebola-infested, feces-hurling monkeys." How can you NOT check them out?

The Table of Condiments That Periodically Go Bad
An invaluable scientific tool for the refrigeratorly challenged... never eat b

ad Guacamole again!

Cool Cooler
Sent in by a site visitor.

A few 'ready-to-print' .pdf files sent in by Belly Buddy Shawn McGrady include "The Beer Bill of Rights," "Jim's Laws of Alcohol" and "If Operating Systems Were Beers." These are ready to print and frame for your basement bar or rompus (snicker) room.

This link was forwarded by a visitor- The Beer Goggle Experience!