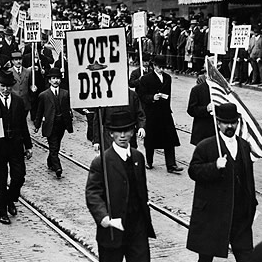 Documentation and iMovie special effect Ken Burns has turned his insightful eye to alcohol. PBS will begin airing his new three-part, five-and-a-half-hour documentary film Prohibition on Sunday, October 2nd.
The series is directed by Ken Burns & Lynn Novick and tells the story of the rise, rule, and fall of the Eighteenth Amendment to the U.S. Constitution and the entire era it encompassed. Prohibition was intended to embiggin the lives of all Americans and to protect individuals, families, and society at large from the devastating effects of alcohol abuse. But it, er, didn't.
We here at The Belly have always had a fascination with prohibition, particularly with the Twenty First Amendment to the Constitution of the United States that repealed the Eighteenth Amendment. We've always said that December 5th–the date the amendment was ratified–should be a national holiday or a "shit face day" as comedian Kevin King would put it.
Find out more about the PBS special here, and here are a few fun facts in honor of the 21st Amendment.
Pardon us please, while we pay for beer...