Main
The Hot Pepper Primer
Ass Kickin' Hot Sauce
Blazin' Saddle Hot Sauce
Sontava! XXX Hot Sauce
Tabasco Family
Tapatio Salsa Picante


| | |
| --- | --- |
| Scovilles Are Us | |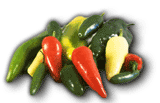 Chef Executive David Lauterbach takes a look at the family of Tabasco® Sauces that he picked up down in the Big Easy. Speaking of Big Easy... the Big Belly himself, Brian Bailey has contributed his hot sauce review of Ass Kickin' (tm) Hot Sauce.

Guest Belly Buddy David Hughes has sent us a great review of Sontava! XXX Hot Sauce that will really burn your whistle.

Additionally, Chef Executive Dave has put together a Hot Pepper Primer for everyone out there who thinks they know what they're talking about when it comes to puttin' on the heat.

Visit Firebreath.com for all your fiery needs...