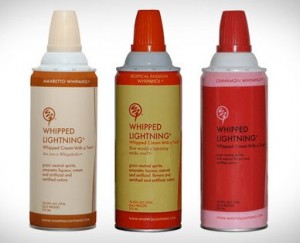 Jell-o shots too weak? Tired of non-alcoholic hot chocolate? Want to make your Irish coffee even more Irish? Top them all off with Whipped Lightning.
According to the manufacturer, Whipped Lightning® is the world's first alcohol-infused whipped cream.  A tasty topping that can dress up any drink, shot, shooter, cocktail, coffee, frozen beverage, or favorite dessert.
According to the website "Whipahol® is a one-of-a-kind alcoholic beverage that's sure to excite your inner Whipalogist. Why not practice a little Whipalogy today?"
You are supreme… the chicks'll cream… for Whipped Lightning.
Whipped Lightning at whippedlightning.com via Giz.
Pardon us while we pay for beer...