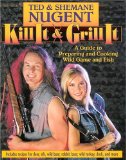 Ted Nugent likes to say, "You can't grill it until you kill it." Well, even if you don't kill it personally, now you can grill it just like the Nuge. Kill It and Grill It: Ted and Shemane Nugent's Guide to Preparing & Cooking Wild Game and Fish
, Ted Nugent shares his favorite recipes for such exotic fare as wild boar, pheasant, buffalo and venison. Kill It and Grill It is filled with hunting anecdotes, detailed instructions on cleaning and dressing your game, helpful hints for those new to hunting and cooking wild game, nutritional information, and of course, recipes.
Pardon us while we pay for beer...