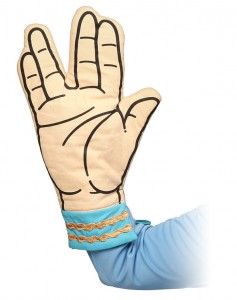 Your search for a Spock oven mitt is over… if you have been looking for one.
Star Trek fans have no shortage of fan paraphernalia in the kitchen… the shape of the Enterprise can open a bottle, shake some salt, and slice a pizza. Spock can even dispense cookies, which isn't very logical, but hey somebody out there must want cookies from their favorite Vulcan.
With that in mind I'm sure there are Spock and Star Trek fans who desire being able to give the Vulcan salute to their Trekkie friends as they are removing hot items from the oven. This mitt will satisfy two urges at once.
Speaking of urges, I suppose this mitt could also be used for self-pon farring.
The Star Trek/Spock/Vulcan Oven Mitt is available at ThinkGeek for 15 bars of Gold Pressed Latinum.
Pardon us while we pay for beer...