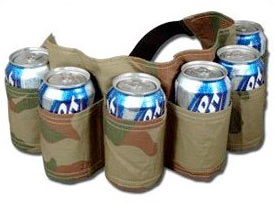 Don't you hate waiting hours on end in your blind or tree stand, only to have that trophy buck spot your shiny beer can from 20 yards out? Don't let another 8-pointer get away with this self-proclaimed "Redneck" camouflage 6-pack beer holster.
Be the hit of your hunting club or lodge… share a beer with your bivouac buddy… or just plain keep your drinking problem hidden from the game warden!
Fits waist sizes 30″ – 54″, so I think it's got you covered. Of course, it can hold soda or water too… but don't be such an ass. It's meant for beer.
Redneck Camouflage 6-Pack Beer Holster at Amazon.com
Pardon us while we pay for beer...