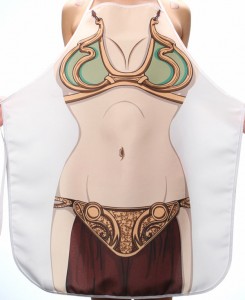 A long time ago, an iconic director created a masterpiece that changed the way we all looked at science fiction. I'm speaking of course, about George Lucas and the Princess Leia gold bikini.
I like the idea of the bikini apron… since a good deal of us men are Hutt-sized, having our better halves parade around as slave Leia in our own personal pleasure skiffs while fixing dinner is not a bad idea, especially (well, only) if you're a Star Wars fan.
$25 at ThinkGeek.
Also found… the Darth Vader apron at StarWarsShop.com.
Pardon us while we pay for beer...