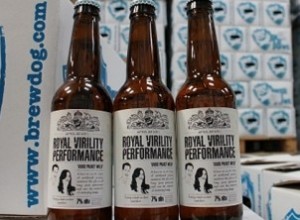 According to the Internet, oddball British beer makers BrewDog have created a special brew that is laced with Viagra.
The beer is called Royal Virility Performance, and has been specially created to celebrate capitalize on the upcoming Royal Wedding. Fox News reports that downing just three bottles is equivalent to taking one pill of Viagra, but also goes on to report that only 40 are being made.
I can find no actual mention of this news on BrewDog's website or blog AND unless the rules are vastly different overseas, I doubt that someone can simply add drugs to a beer and sell it.
Of course, these are the same guys that bottled a 41% ABV Pale Ale and sold it in dead animals, so if anyone can create a beer that cures whiskey dick, it's BrewDog. To keep it interesting, the fellas also added extra aphrodisiacs including horny goat weed and chocolate.
Read more at Fox News.
Pardon us please, while we pay for beer...