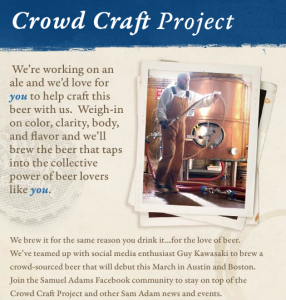 Samuel Adams is going social. Boston Beer is giving Facebook members (I think that's 99% of you now–hi Grandma!) a say in the brewing process by crowd-sourcing a beer.
Using the "Crowd Craft Project" app, Facebook fans can determine the color, clarity, body and character of the malt, hops and yeast for the collaborative beer.
Sam Adams brewer Bert Boyce said "We're reaching out to our Facebook fans to engage them at the beginning of the beer-marking process, asking them for their ideas on what their perfect beer would be…We'll put that input together and we'll brew a beer for them."
Sounds like a plan. I tried the Facebook app and stepped through the process of using a slider to choose what I like in a beer, and then the app crashed. This is actually quite similar to what happens to me when I sample various beers that I like.
If not too many other people encounter the same error I had, the brew will make its debut during the South by Southwest Interactive Festival in Austin, Texas and will be available at select Austin bars and the Sam Adams brewery in Boston.
Whoa, wait… I don't get to sample the beer that I helped craft? Sam says that if all goes well, they will bring the brew to the masses.
I'm not sure if other brewers have tried this, but fans of Sunny know that the gang at Paddy's Pub in Philadelphia have their own special crowd-sourced microbrew.
Marketing beer and alcohol on Facebook is notoriously difficult–I can attest since most of what Brian's Belly wants to promote is beer-related, and we have had our ads turned off in the past–so I wish the guys luck in getting beer to (and from) the masses.
More at Facebook.com/SamuelAdams via Mashable.
Pardon us while we pay for beer...